California Supreme Court Names USD School of Law Alumnus Hon. Robert J. Trentacosta '79 (JD) to Jury Selection Work Group
Hon. Robert J. Trentacosta '79 (JD) Named to California Supreme Court Jury Selection Work Group to Guard Against Jury Discrimination/Bias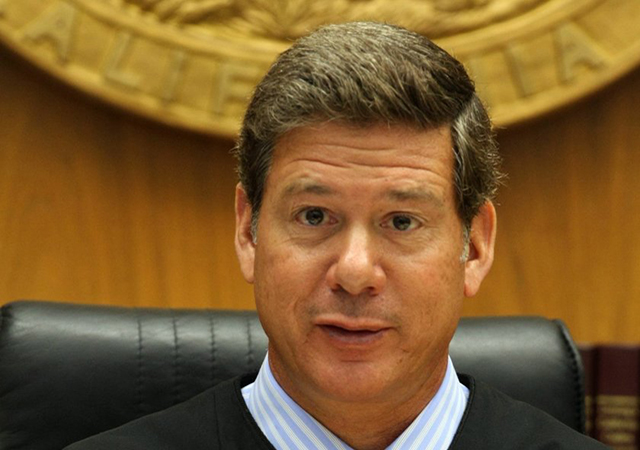 SAN DIEGO (July 9, 2020) – University of San Diego (USD) School of Law alumnus the Honorable Robert J. Trentacosta, '79 (JD), San Diego Superior Court Judge, was named to the Supreme Court of California's Jury Selection Work Group to study changes or new measures to guard against impermissible discrimination in jury selection.
Over 12 to 15 months, work group members will study a broad range of topics related to jury selection, including diversity in California jury pools, changes to jury instructions, and the impact of unconscious bias. "The committee will explore ways to enhance and safeguard the jury selection process so as to eliminate impermissible discrimination in the use of peremptory challenges with the ultimate goal of selecting fair and impartial jurors," said Judge Trentacosta.
"The right to trial by a jury of our peers is central to our justice system, and we must continue to safeguard that right," said Justice Kathleen E. O'Leary, 4th District Court of Appeal in Santa Ana, who will chair the work group. "We join a broad statewide and national dialogue that is focused on ensuring juries fairly represent the communities they serve."
The work group includes 11 judges and justices that represent the California Supreme Court, appellate courts, and trial courts throughout the state.
In late January, the California Supreme Court announced that it would create the work group, contributing to a statewide, multibranch reassessment of jury selection practices that includes the Legislature's introduction of AB 3070, which is focused on peremptory challenges. Questions the Supreme Court's California Jury Selection Work Group plans to study include:
In light of the goal of eliminating improper discrimination in jury selection, does a purposeful discrimination standard impose an appropriate burden on litigants who attempt to show that a peremptory challenge was motivated by improper considerations or on advocates called upon to explain the basis for their peremptory challenges? What are the pros and cons of possible alternatives?

To what extent does unconscious bias affect the jury selection process? Can this unconscious bias be effectively addressed in jury selection, and if so, how?

Does allowing peremptory challenges based on a prospective juror's negative experiences or views of law enforcement or the justice system result in the disproportionate exclusion of jurors of certain backgrounds? Does accepting other facially neutral grounds for peremptory challenges have such an effect? If so, how if at all should these practices be addressed?

Do current standards of appellate review of peremptory challenges in California adequately serve the goals of [Batson v. Kentucky and People v. Wheeler] jurisprudence?

Are there other impediments to eliminating impermissible discrimination in jury selection and better ensuring that juries represent a cross-section of their communities? If so, how can these impediments be addressed?

What kinds of training or guidance would assist advocates and judges in promoting fairness in this area and in making a record that facilitates sound appellate review?

Should the standard jury instructions that address bias be modified or supplemented to provide more guidance to jurors in addressing bias during the deliberation process?
Trentacosta is a judge in San Diego Superior Court currently overseeing felony disposition and parole, former Supervising Judge of both the San Diego Superior Court and Juvenile Division, a member of the Board of Visitors, former President of the Law Alumni Board, and a Distinguished Alumni Award recipient.
About the University of San Diego School of Law
Each year, USD educates approximately 800 Juris Doctor and graduate law students from throughout the United States and around the world. The law school is best known for its offerings in the areas of business and corporate law, constitutional law, intellectual property, international and comparative law, public interest law and taxation.
USD School of Law is one of the 84 law schools elected to the Order of the Coif, a national honor society for law school graduates. The law school's faculty is a strong group of outstanding scholars and teachers with national and international reputations and currently ranks 36th nationally among U.S. law faculties in scholarly impact and 22nd nationally in past-year faculty downloads on the Social Sciences Research Network (SSRN). The school is accredited by the American Bar Association and is a member of the Association of American Law Schools. Founded in 1954, the law school is part of the University of San Diego, a private, independent, Roman Catholic university chartered in 1949.