School of Law Launches Summer Student Research Fellowship Program to Study of Legal and Ethical Issues Relating to COVID-19 Global Pandemic
School of Law Launches Summer Student Research Fellowship Program to Study of Legal and Ethical Issues Relating to COVID-19 Global Pandemic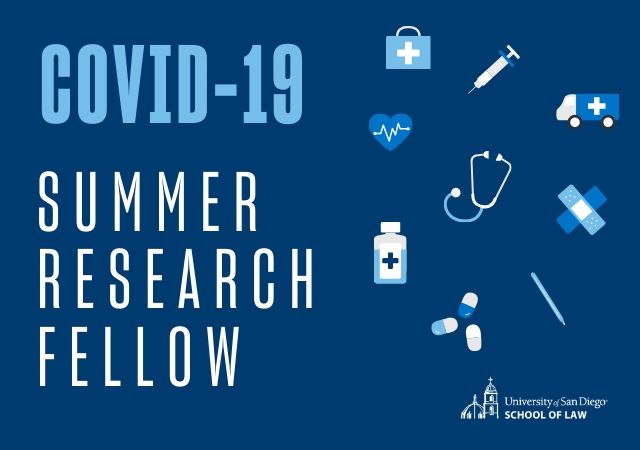 SAN DIEGO (June 26, 2020) - The University of San Diego (USD) School of Law has established a Summer Student Research Fellowship Program to address the complex and critical questions of law, policy and ethics arising the COVID-19 global pandemic. Twelve law students, who were chosen in a competitive process, began research projects research earlier this month and will be working on them until classes restart in mid-August.
The program is being supervised by Professor Dov Fox, Director for USD's Center of Health Law Policy and Bioethics, and a nationally recognized expert on bioethics and health law. The objective of the program is to develop a valuable set of lessons learned, best practices, and guidance in areas of greatest social concern, to assist policymakers and other thought leaders. The student fellows will also learn valuable research skills in new and exciting areas of law, legal policy and ethics.
"Thanks to the expertise Dov Fox and the resources we can draw upon from the San Diego life science community, the School of Law is ideally positioned to undertake this important research project relating to the COVID-19 pandemic," said Dean Stephen C. Ferruolo, whose legal expertise is focused on the life sciences and whose serves as Vice President and on the Board of Directors of BIOCOM. "I am so pleased that the program is being supported by leading members of the San Diego life science community, including Illumina, " added Ferruolo. "Not only is Illumina one of San Diego's most innovative and fastest growing companies, its corporate mission and values align beautifully with our goals for the COVID-19 Summer Student Research Fellowship Program."
If you are interested in supporting USD School of Law COVID-19 Summer Student Research Fellowship or funding a Research Fellow, please contact Debbie Rider, Director of Development at USD School of Law.
About the University of San Diego School of Law
Each year, USD educates approximately 800 Juris Doctor and graduate law students from throughout the United States and around the world. The law school is best known for its offerings in the areas of business and corporate law, constitutional law, intellectual property, international and comparative law, public interest law and taxation.
USD School of Law is one of the 84 law schools elected to the Order of the Coif, a national honor society for law school graduates. The law school's faculty is a strong group of outstanding scholars and teachers with national and international reputations and currently ranks 36th nationally among U.S. law faculties in scholarly impact and 22nd nationally in past-year faculty downloads on the Social Sciences Research Network (SSRN). The school is accredited by the American Bar Association and is a member of the Association of American Law Schools. Founded in 1954, the law school is part of the University of San Diego, a private, independent, Roman Catholic university chartered in 1949.