USD School of Law Announces the Advancing Black Leadership and Scholarship in the Law Fund
USD School of Law Announces the Advancing Black Leadership and Scholarship in the Law Fund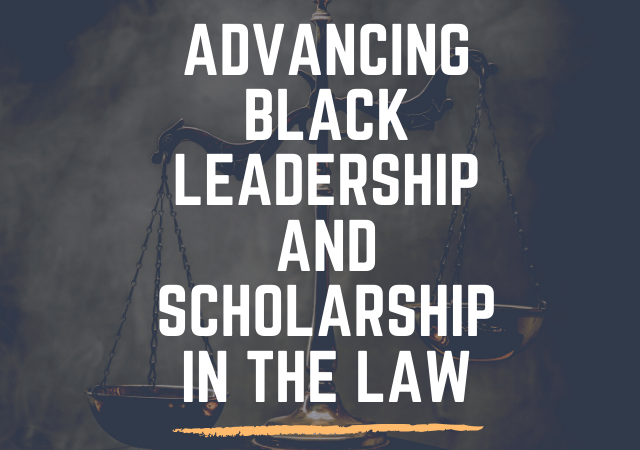 SAN DIEGO (June 19, 2020) - At the conclusion of Friday, June 19, University of San Diego (USD) School of Law's annual Board of Visitors Retreat, new Board of Visitors member Kristin Rizzo, '06 (JD), Rizzo Resolution, spoke passionately about engaging with members of the law school community to address the lack of representation in the legal profession and academia of African American lawyers. Rizzo's committee met yesterday, to discuss the creation of a scholarship fund to advance Black leadership and scholarship in the law. Knowing that the success of Black lawyers matters, Rizzo announced the establishment of a scholarship fund to encourage those who support open, fair, and equitable access to legal education for Black students.
The announcement dovetailed perfectly with Deputy Attorney General, Office of the Attorney General, California Department of Justice Joy Utomi Hartmann's, '11 (JD) goal, to have a scholarship that supports Black law students. She initiated conversations with Debbie Rider, '84 (JD) in December of 2019 about starting a scholarship for Black students and their supporters. Hartmann said, "I was inspired to reach out to explore what more we could be doing to support students who are working hard to make a difference in their community by the commitment of USD to increase diversity and support African American students at the law school."
At USD School of Law, starting Juneteenth, there will be an opportunity to contribute to the Advancing Black Leadership and Scholarship in the Law student scholarship fund. It also marks 155th anniversary of Juneteenth–the oldest nationally celebrated commemoration of the ending of slavery in the United States.
"It has been my privilege as Dean to have worked with outstanding Black student leaders, like Joy Utomi Hartmann. This scholarship initiative recognizes how valuable such leadership is to the law school community and the Black community, as well as to the future of racial equality and justice in our country," said Dean Stephen C. Ferruolo. "I also see this scholarship fund as a step, albeit a small one, towards removing the impediments to access to the legal profession that too many of our Black students continue to face."
Board of Visitors members and faculty: David Brennan, '03 (LLM); David S. Casey, Jr. '74 (JD); Shaka Johnson, '03 (JD); Virginia C. Nelson, '79 (JD); Louisa S Porter, '77 (JD); Gary W. Schons, '73 (BA), '76 (JD); Mike Rider, '83 (JD); Kristin Rizzo, '06 (JD); and Susanne Stanford, '75 (JD), were the first of many to join together to support the mission associated with the inaugural award of this scholarship. In the 30 days since the scholarship was announced, the following people have contributed to its success: Alex Lowder, '09 (JD); Dylan Aste, '11 (JD); Mike Chavez, School of Law Associate Director, JD Admissions and Diversity Initiatives; Megan Donohue '09 (JD); Alan Brubaker, '76 (JD); Robert Gleason, '98 (JD); Ashley Hirano, '09 (JD); Shari Baurle-Green, Associate Director for Alumni Relations, School of Law; Maria Shih, '08 (JD); Catherine Spray, Assistant Director, Law School Communications; Briana Pendergrass, '10 (JD); Jordan Ondatje, '14 (BBA), '17 (JD); Marissa Lyftogt, '08 (JD); Bobby Foster, '19 (JD); Katie Gonzalez, '98 (BA), Assistant Director, Public Interest Law; Molly Wescott, Assistant Dean, Law School Career and Professional Development, Anthony Rayos, Executive Assistant, Law Admissions and Financial Aid; and Marti Worms, Assistant Director, Employer Outreach and Communications, School of Law.
"I, like many, have been moved by the Black Lives Matter movement, prompted by racial injustice and the tragic killings of so many Black people in our society," said Rizzo.
"In thinking about the prejudices, inequality, and social injustices plaguing our country now and throughout much of our history, reading through the many letters of solidarity and Dean Ferruolo's Message to Students, and desiring to stand up in support of real change, I wanted to create a scholarship for law school students," continued Rizzo. "Debbie Rider, '84 (JD), told me that Joy Utomi Hartmann, '11 (JD), on the Law Alumni Board and co-chair of the Diversity & Inclusion Committee, had also inquired similarly and so we were connected with a common goal in mind."
"As a nation, we must realize that we are at a crossroads. We can choose to continue to be an intolerant and divided nation built upon the dehumanization of Black people, or we can choose to work together to dismantle the systemic racism and injustices that have plagued this nation for centuries, " said Hartmann, "I choose the latter and I am overjoyed that this scholarship will support those law students who exemplify the leaders we need in our collective fight to rebuild a just society that values the humanity of every person, regardless of race."
This new student scholarship is inspired by the Black Lives Matter movement and based on the great need to support this historically underrepresented population in law school and in the legal community.
On June 18, Law360 published an article on How Attorneys Hope To Prevent Recession-Era Diversity Mistakes that cites the following statistics:
"Between 2009 and 2019, the proportion of African American associates increased just from 4.66% to 4.76%, according to the National Association for Law Placement's 2019 Report on Diversity in U.S. Law Firms."
"African American attorneys made up just under 2% of law firm partners in 2019, up from 1.77% in 2009, the report found. During that time, the proportion of Asian partners rose from 2.2% to 3.9%, and the proportion of Latino partners from 1.7% to 2.5%."
"Between 2009 and 2019, the percentage of Black women who are law firm associates had actually fallen from 2.9% to 2.8%. Also, fewer than four of every 100 firm partners are women of color, and fewer than one of 100 are African American women."
The Advancing Black Leadership and Scholarship in the Law student scholarship fund is for law students who have demonstrated support for and commitment to:
Equal access to justice and education for the Black population
Lifting Black voices and raising issues affecting black communities
Fighting against racism, racial injustice, and prejudices
Showing demonstrated leadership in and/or for the Black community on these issues in Black Law Students Association (BLSA) through internships/clinics/volunteer work, and/or in the broader community
Rizzo and Hartmann worked with Jorge Garcia, Assistant Dean of Admissions, Diversity Initiatives & Financial Aid; Debbie Rider, '84 (JD), Director of Development; Jeanette Nichols, Assistant Director for School of Law Annual Giving; and Shari Baurle Green, Associate Director of Alumni Relations to establish the fund. Simultaneously, USD School of Law Professors Roy Brooks and David Brennan have joined forces in similar efforts to fund student scholarships for students who support the movement to increase access for students who are actively engaged in advancing Black issues, and those who are involved in supporting equitability and fairness in the Black communities.
Rizzo and Hartmann only just met, but their past and their future are already intertwined. Rizzo is the inaugural USD School of Law Rising Star Recent Alumni Award honoree, receiving the award in 2011, and Hartmann was selected in May to be the 2020 Rising Star Recent Alumni Award Honoree.
Contribute to
Advancing Black Leadership and Scholarship in the Law
About the University of San Diego School of Law
Each year, USD educates approximately 800 Juris Doctor and graduate law students from throughout the United States and around the world. The law school is best known for its offerings in the areas of business and corporate law, constitutional law, intellectual property, international and comparative law, public interest law and taxation.
USD School of Law is one of the 84 law schools elected to the Order of the Coif, a national honor society for law school graduates. The law school's faculty is a strong group of outstanding scholars and teachers with national and international reputations
and currently ranks 36th nationally among U.S. law faculties in scholarly impact and 22nd nationally in past-year faculty downloads on the Social Sciences Research Network (SSRN). The school is accredited by the American Bar Association and is a member of the Association of American Law Schools. Founded in 1954, the law school is part of the University of San Diego, a private, independent, Roman Catholic university chartered in 1949.