Jessica Heldman '04 (JD) Professor in Residence in Child Rights Interviewed by ABC 10 News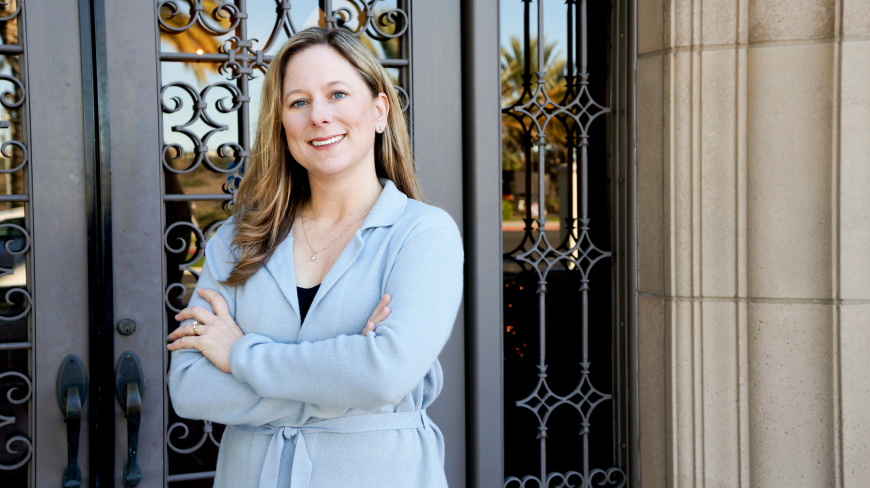 SAN DIEGO (June 9, 2020) – University of San Diego (USD) School of Law Children's Advocacy Institute (CAI)'s Jessica Heldman, Fellmeth-Peterson Professor in Residence in Child Rights was interviewed by ABC 10 News on Governor Newsom's proposed budget cuts that will impact child welfare services.
According to the article, due to the coronavirus pandemic, funds that were once available are no longer. The proposed cuts come just weeks after Gov. Gavin Newsom announced new investments totaling $42 million to protect younger Californians at heightened risk for abuse and mistreatment due to COVID-19. These funds will only last so long and the May revise contains cuts to the child welfare system.
"This is a time where we need to see, not cuts, but increased investment in the kinds of supports that help families meet basic needs and avoid some of the financial stresses and then receive the kinds of services and support for dealing with any issues that may trigger some abuse," said Jessica Heldman with the Children's Advocacy Institute at the University of San Diego.
Heldman said they're concerned about funding to help prevent abuse and neglect, funding to foster care services, and making sure there's money to support young adults who are transitioning out of the system and have no support beyond the system.
She said transitional youth leave the system at 18 or 21 and don't have a parent or legal guardian who can help with financial support or emotional support. Something as simple as a place to stay.
"They are high risk of some pretty poor outcomes, and it's going to take a real investment to make sure that we put them in the best position possible when they are going to be struggling," Heldman said.
Heldman explained many of the youth aging out of Foster Care are losing their jobs. She cited a recent survey of about 600 transition-age foster youth across the country. It showed 65 percent of the respondents had lost their job, one in five said they are concerned about not having enough money to eat, and more than half of them had not received stimulus checks.
"I think people are unaware of this population of young adults and older teens who really need the support and need to be a priority or else they are going to become the parents of the next generation who are struggling economically, and the cost to that in our society is going to be far greater than the investment now to make sure that they stay on their feet," she said.
Read the full article by Adam Racusin at ABC 10 News here.
About the Children's Advocacy Institute
The Children's Advocacy Institute (CAI), founded at the nonprofit University of San Diego School of Law in 1989, is one of the nation's premiere academic, research, and advocacy organizations working to improve the lives of children and youth, with special emphasis on improving the child protection and foster care systems and enhancing resources that are available to youth aging out of foster care.
In its academic component, CAI trains law students and attorneys to be effective child advocates throughout their legal careers. Its Child Advocacy Clinic gives USD Law students three distinct clinical opportunities to advocate on behalf of children and youth, and its Dependency Counsel Training Program provides comprehensive training to licensed attorneys engaged in or contemplating Dependency Court practice.
CAI's research and advocacy component, conducted through its offices in San Diego, Sacramento, and Washington, D.C., seeks to leverage change for children and youth through impact litigation, regulatory and legislative advocacy, and public education. Active primarily at the federal and state levels, CAI's efforts are multi-faceted—comprehensively and successfully embracing all tools of public interest advocacy to improve the lives of children and youth. To support CAI's work, please visit law.sandiego.edu/caigift.
About the University of San Diego School of Law
Each year, USD educates approximately 800 Juris Doctor and graduate law students from throughout the United States and around the world. The law school is best known for its offerings in the areas of business and corporate law, constitutional law, intellectual property, international and comparative law, public interest law and taxation.
USD School of Law is one of the 84 law schools elected to the Order of the Coif, a national honor society for law school graduates. The law school's faculty is a strong group of outstanding scholars and teachers with national and international reputations and currently ranks 36th nationally among U.S. law faculties in scholarly impact and 22nd nationally in past-year faculty downloads on the Social Sciences Research Network (SSRN). The school is accredited by the American Bar Association and is a member of the Association of American Law Schools. Founded in 1954, the law school is part of the University of San Diego, a private, independent, Roman Catholic university chartered in 1949.