USD School of Law Celebrates Student Leadership at Virtual Breakfast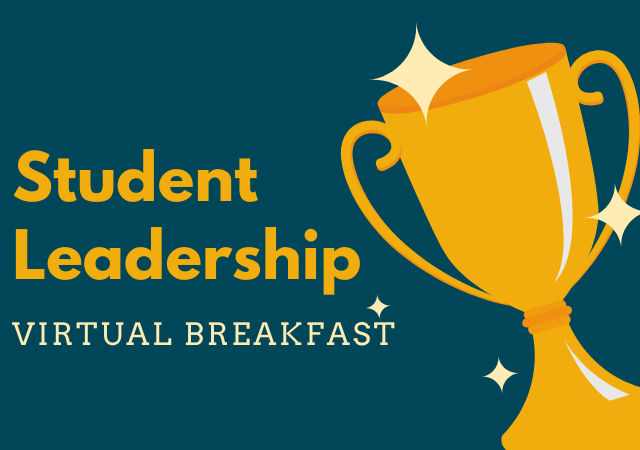 SAN DIEGO (May 4, 2020) – The Office for Law Student Affairs hosted the ninth annual Student Leader Recognition event on Saturday, April 18, 2020, 10 a.m. This annual event, a favorite among students, faculty, and administrators, was held virtually via Zoom due to the COVID-19 pandemic. Attendees were encouraged to bring breakfast to enjoy along with their favorite mug filled with morning caffeine. The dress code was comfortable breakfast chic attire.
The event was held in honor of the many law student leaders and law student organizations who work tirelessly on behalf of their school, their community and their law student colleagues.
Assistant Dean for Law Student Affairs Meredith D'Angelo provided welcoming remarks to the group of over 90 attendees. She also presented Dean Stephen C. Ferruolo with a farewell gift: a book of appreciation filled with photos and messages from current students and recent alumni. On behalf of the law community, she thanked Dean Ferruolo for his leadership over the last nine years. She also thanked the Student Bar Association (SBA) for its recent generous donation to the Law Student in Need Fund.
Dean Ferruolo provided the keynote address on the value of leadership. Ferruolo focused on several important characteristics of leaders, including emotional intelligence, centeredness, and the determination to see things through. He emphasized that good leaders are needed now more than ever and his confidence that USD law students would be able to fill that need.
Director for Law Student Affairs Irene Meloney presented three students with the USD Enhancement Award. This annual award is given to law students who go above and beyond to improve and enrich the USD law community. The recipients exemplify leadership and think of ways to involve other law students and the larger San Diego community. This year's recipients were: Monet McCord, president of the Pro Bono Legal Advocates (PBLA), for her dedication to pro bono work during her time in law school; Carson Williams, president of the Advocates for Children & Education (ACE) and the Environmental Law Society (ELS), for his advocacy on behalf of his classmates, the environment, and youth; and Sarah Early, the SBA Treasurer for the last two years, for her role in streamlining the SBA funding process and her compassionate leadership.
The outgoing 2019-20 SBA Executive Board Officers: President, Madison Lathem; Vice President, Yasmine Kalhor; Vice President of Student Organizations, Robbie Ponce; Secretary, Lexy Hanna; and Treasurer, Sarah Early passed the torch to the new SBA Executive Board officers for 2020-21: President, Robbie Ponce; Vice President, Meena Kaypour; Vice President of Student Organizations, Lexy Hanna; Secretary, Jordan Jones; and Treasurer, Baylee Beeman.
Outgoing SBA Vice President for Student Organizations Robbie Ponce presented the award for Student Organization of the Year to the Employment and Labor Law Society (EALLS). EALLS held several dynamic events throughout the year and established the EALLS Public Interest Scholarship, the first scholarship to be established by a law student organization.
Click here to read Dean Ferruolo's remarks.
About the University of San Diego School of Law
Each year, USD educates approximately 800 Juris Doctor and graduate law students from throughout the United States and around the world. The law school is best known for its offerings in the areas of business and corporate law, constitutional law, intellectual property, international and comparative law, public interest law and taxation.
USD School of Law is one of the 84 law schools elected to the Order of the Coif, a national honor society for law school graduates. The law school's faculty is a strong group of outstanding scholars and teachers with national and international reputations and currently ranks 36th nationally among U.S. law faculties in scholarly impact and 22nd nationally in past-year faculty downloads on the Social Sciences Research Network (SSRN). The school is accredited by the American Bar Association and is a member of the Association of American Law Schools. Founded in 1954, the law school is part of the University of San Diego, a private, independent, Roman Catholic university chartered in 1949.