Calling on USD School of Law Alumni to #HireUSDLaw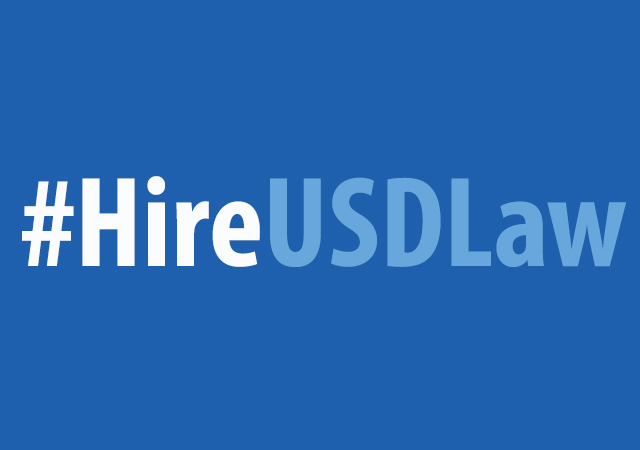 SAN DIEGO (April 23, 2020) – University of San Diego (USD) School of Law is busier than ever educating students via remote teaching, advising them on academic and career matters, presenting online programs, and implementing a variety of plans to help students impacted by the COVID-19 crisis. We are asking for alumni assistance with our efforts.
Many of our current 1L and 2L students had secured coveted summer positions with law firms, public agencies, and legal non-profit organizations. As a result of the pandemic, a number of summer programs have been cancelled and summer job offers rescinded. At the same time, our graduating class faces an uncertain job market as they continue to search for post-grad employment. USD Law alumni have always been a great source of hiring and referrals for USD Law students and recent graduates, and we especially need your help at this critical time.
Could your law firm or company hire a student to perform legal research or draft legal documents this summer? Students are open to hourly project work, remote work or any other work arrangement that would allow them to gain experience and earn needed income at this time. If you work for a legal nonprofit or government agency, can you hire students to work with you this summer for academic credit or on a volunteer basis? If you are not able to personally hire any students for summer or for post-grad positions at this time, we'd ask you to reach out to your networks and let us know of any opportunities or leads you might identify.
Please email Assistant Dean Molly Wescott or Marti Worms in the Office of Career and Professional Development to share potential opportunities, post a position, or learn more about our employer outreach efforts. We welcome your input and assistance especially during these uncertain times. And please remember–it's always a good time to #HireUSDLaw.
About the University of San Diego School of Law
Each year, USD educates approximately 800 Juris Doctor and graduate law students from throughout the United States and around the world. The law school is best known for its offerings in the areas of business and corporate law, constitutional law, intellectual property, international and comparative law, public interest law and taxation.
USD School of Law is one of the 84 law schools elected to the Order of the Coif, a national honor society for law school graduates. The law school's faculty is a strong group of outstanding scholars and teachers with national and international reputations and currently ranks 36th nationally among U.S. law faculties in scholarly impact and 22nd nationally in past-year faculty downloads on the Social Sciences Research Network (SSRN). The school is accredited by the American Bar Association and is a member of the Association of American Law Schools. Founded in 1954, the law school is part of the University of San Diego, a private, independent, Roman Catholic university chartered in 1949.