MLB General Counsels Caroline Perry and D'Lonra Ellis Speak at USD School of Law
MLB General Counsels Caroline Perry and D'Lonra Ellis Speak at USD School of Law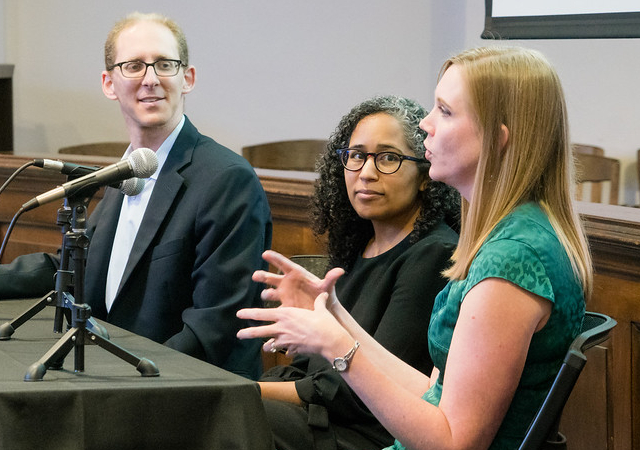 SAN DIEGO (February 21, 2020) – University of San Diego (USD) School of Law welcomed General Counsels Caroline Perry and D'Lonra Ellis on February 18.
Currently, Perry works with the San Diego Padres and Ellis works with the Oakland A's. The women spoke to students as part of an event hosted by the Center for Corporate and Securities Law.
Both Perry and Ellis spoke with students in Professor Jordan Barry's class about their responsibilities as general counsels within the MLB. They stressed that their jobs are different from that of other general counsels as they are expected to have an additional understanding of baseball regulatory requirements.
Click here to learn more about the event and speakers.
About the University of San Diego School of Law
Each year, USD educates approximately 800 Juris Doctor and graduate law students from throughout the United States and around the world. The law school is best known for its offerings in the areas of business and corporate law, constitutional law, intellectual property, international and comparative law, public interest law and taxation.
USD School of Law is one of the 84 law schools elected to the Order of the Coif, a national honor society for law school graduates. The law school's faculty is a strong group of outstanding scholars and teachers with national and international reputations and currently ranks 36th nationally among U.S. law faculties in scholarly impact and 22nd nationally in past-year faculty downloads on the Social Sciences Research Network (SSRN). The school is accredited by the American Bar Association and is a member of the Association of American Law Schools. Founded in 1954, the law school is part of the University of San Diego, a private, independent, Roman Catholic university chartered in 1949.