USD School of Law Announces Affiliation with USD Paralegal Program
School of Law Announces Affiliation with USD Paralegal Program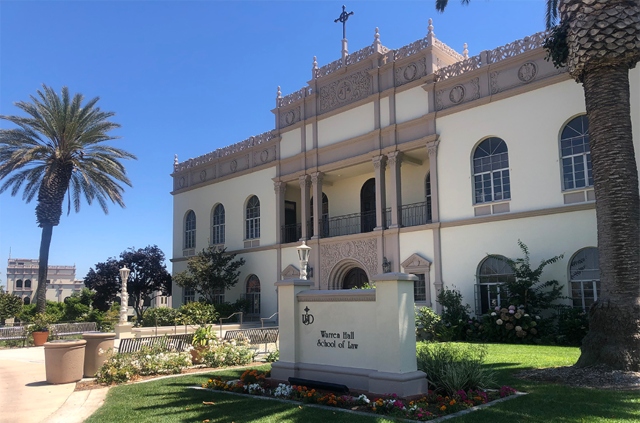 San Diego (November 18, 2019) - University of San Diego (USD) School of Law has announced the USD Paralegal Program has become part of the School of Law effective for the 2019-20 academic year and will be known as the USD School of Law Paralegal Program. In 2020, the program will celebrate forty-five years of providing premier, graduate-level paralegal education to the San Diego legal community.
The USD Paralegal Certificate Program began in 1975 and in 1977 became the first ABA-approved paralegal program in San Diego. Previously located within USD Professional and Continuing Education, the paralegal program has nearly 8,000 graduates. With its affiliation with the USD School of Law, the paralegal program becomes one of only a few ABA-approved paralegal programs affiliated with an ABA-accredited law school.
"This new relationship with the School of Law further distinguishes our paralegal graduates in the workplace and presents strategic opportunities for increased paralegal specialization and new legal services curriculum," said Tara Murphy, Director, Graduate Career Programs.
"I see this as a strategic opportunity to reposition the paralegal program," said Stephen C. Ferruolo, Dean of the USD School of Law. "We are also exploring ways in which the paralegal program and our existing Masters of Science in Legal Studies (MSLS) degree could be combined to expand legal education options for non-lawyer professionals/managers. In addition, in the event California approves the establishment of a limited license legal technician (LLLT) program, we believe that an enhanced paralegal program would give the law school a lead in developing programs to train these new legal paraprofessionals."
"This is a very exciting time for paralegals. The affiliation with the USD School of Law enhances the already high-caliber reputation of our academically rigorous program for training paralegals and also provides expanding growth opportunities for seasoned paralegals," said Kristine Custodio Suero, USD School of Law Paralegal Program Advisory Committee member, Senior Paralegal/Business Development Director for Butterfield Schechter LLP, Director, San Diego Paralegal Association, and Professional Development Committee member, National Association of Legal Assistants.
About the University of San Diego School of Law
Each year, USD educates approximately 800 Juris Doctor and graduate law students from throughout the United States and around the world. The law school is best known for its offerings in the areas of business and corporate law, constitutional law, intellectual property, international and comparative law, public interest law and taxation.
USD School of Law is one of the 84 law schools elected to the Order of the Coif, a national honor society for law school graduates. The law school's faculty is a strong group of outstanding scholars and teachers with national and international reputations and currently ranks 36th nationally among U.S. law faculties in scholarly impact and 22nd nationally in past-year faculty downloads on the Social Sciences Research Network (SSRN). The school is accredited by the American Bar Association and is a member of the Association of American Law Schools. Founded in 1954, the law school is part of the University of San Diego, a private, independent, Roman Catholic university chartered in 1949.