Federal Trade Commissioner Noah Joshua Phillips to Speak Twice at the USD School of Law
FTC Noah Joshua Phillips to Speak at the USD School of Law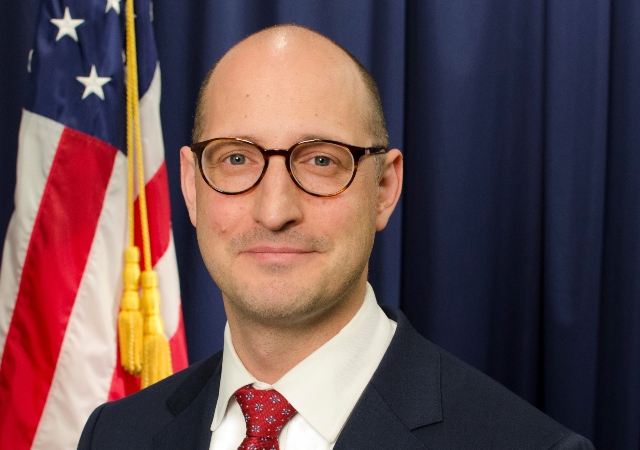 SAN DIEGO (October 31, 2019) – Federal Trade Commissioner (FTC) Noah Joshua Phillips will speak at two events at the University of San Diego School of Law on November 4. Visiting USD School of Law as part of the 4th Annual Center for Corporate and Securities Law Speaker Series, Commissioner Phillips will present at noon in Warren Hall's Grace Courtroom, followed by an evening discussion at Degheri Alumni Center, both moderated by Professor of Law Jordan Barry.
Commissioner Phillips was part of a pivotal 3 to 2 July vote supporting the imposition of a $5 billion fine against Facebook after the company violated a 2012 FTC order regarding the privacy of user data. The ruling holds Facebook to new restrictions regarding personal data and is the largest fine ever imposed for a company violating consumer privacy. Said Phillips on Twitter, "The monetary and structural remedies in this settlement dwarf any past remedy the FTC has ever attained. They make privacy violations less likely and responsibility for such violations more clear."
Each year, the Center for Corporate and Securities Law Speaker Series invites notable guests to speak on issues of corporate governance, financial regulation and other business law topics. Past speakers have included Hester M. Peirce, Commissioner of the U.S. Securities and Exchange Commission; David Enrich, The New York Times Finance Editor and author of The Spider Network; and Randall Thomas, the John S. Beasley II Chair in Law and Business, Director of the Law & Business Program, Professor of Management, and Owen Graduate School of Management at Vanderbilt Law School.
About Noah Joshua Phillips
The Honorable Noah Joshua Phillips has been a Commissioner on the Federal Trade Commission since April 2018, when he was confirmed unanimously by the United States Senate. Before coming to the FTC, Phillips served as Chief Counsel to U.S. Sen. John Cornyn, of Texas, on the Senate Judiciary Committee. From 2011 to 2018, he advised Senator Cornyn on legal and policy matters including antitrust, constitutional law, consumer privacy, fraud, and intellectual property. Prior to his Senate service, Phillips worked as a litigator at Cravath, Swaine & Moore LLP, in New York City, and Steptoe & Johnson LLP, in Washington, D.C. Phillips began his career at Wasserstein Perella & Co., an investment bank in New York City. Phillips received his A.B. from Dartmouth College and his J.D. from Stanford Law School.
About the University of San Diego School of Law
Recognized for the excellence of its faculty, curriculum and clinical programs, the University of San Diego (USD) School of Law educates approximately 800 Juris Doctor and graduate law students from throughout the United States and around the world. The law school is best known for its offerings in the areas of business and corporate law, constitutional law, intellectual property, international and comparative law, public interest law and taxation.
USD School of Law is one of the 84 law schools elected to the Order of the Coif, a national honor society for law school graduates. The law school's faculty is a strong group of outstanding scholars and teachers with national and international reputations and currently ranks 36th nationally among U.S. law faculties in scholarly impact and 22nd nationally in past-year faculty downloads on the Social Sciences Research Network (SSRN). The school is accredited by the American Bar Association and is a member of the Association of American Law Schools. Founded in 1954, the law school is part of the University of San Diego, a private, independent, Roman Catholic university chartered in 1949.
Please click here to attend the midday event.
Please click here to attend the evening event.