USD School of Law Professor Lisa Ramsey to Speak at San Diego Intellectual Property Legal Association Event
Professor Lisa Ramsey to Speak at San Diego Intellectual Property Legal Association Event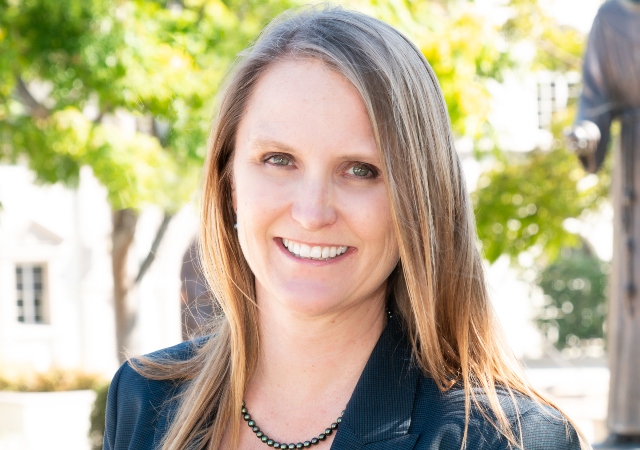 SAN DIEGO (October 24, 2019) – University of San Diego School of Law Professor Lisa Ramsey is set to speak at the San Diego Intellectual Property Legal Association's event on the topic of Women Leadership in San Diego Intellectual Property.
Ramsey is one of four panelists participating in the discussion. She will be joined by two former SDIPLA presidents (Weintraub Tobin shareholder Jo Dale Carothers and Knobbe Martens partner Rose Thiessen) and an in-house attorney (Nicole Green, the Director of Legal Affairs and New Markets at Dexcom). Among other things, the panelists will be speaking about their career paths and changes within the intellectual property field over the past decade.
The event will be held on October 24 at Knobbe Martens at 6 p.m.
About Professor Lisa Ramsey
Lisa Ramsey is a Professor of Law at the University of San Diego School of Law, where she is a founding member of the Center for Intellectual Property Law and Markets. She teaches intellectual property and international intellectual property classes and is an expert on trademark law. Her scholarship focuses on non-traditional trademarks and the potential conflicts between trademark laws and the right to freedom of expression. She has given presentations on trademark law to attorneys, professors, and students throughout the United States and around the world. Professor Ramsey is also an active member of the International Trademark Association and has served on several INTA committees. Before joining the USD law faculty, she was an intellectual property litigator at Gray Cary Ware & Freidenrich and served as a judicial law clerk for the Honorable Rebecca Beach Smith in the United States District Court for the Eastern District of Virginia.
About the University of San Diego School of Law
Recognized for the excellence of its faculty, curriculum and clinical programs, the University of San Diego (USD) School of Law educates approximately 800 Juris Doctor and graduate law students from throughout the United States and around the world. The law school is best known for its offerings in the areas of business and corporate law, constitutional law, intellectual property, international and comparative law, public interest and taxation.
USD School of Law is one of the 84 law schools elected to the Order of the Coif, a national honor society for law school graduates. The law school's faculty is a strong group of outstanding scholars and teachers with national and international reputations and currently ranks 36th nationally among U.S. law faculties in scholarly impact and 29th nationally in past-year faculty downloads on the Social Sciences Research Network (SSRN). The school is accredited by the American Bar Association and is a member of the Association of American Law Schools. Founded in 1954, the law school is part of the University of San Diego, a private, independent, Roman Catholic university chartered in 1949.