Jessica Heldman '04 (JD) and Jamie Beck '11 (JD) Discuss New Course to Fight Human Trafficking with Empathy on NBC San Diego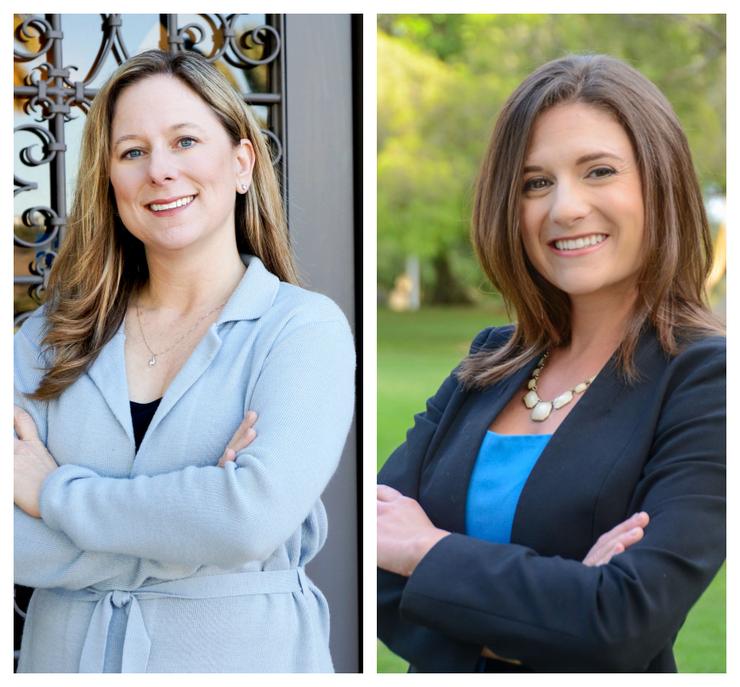 SAN DIEGO (August 22, 2019) – University of San Diego (USD) School of Law's Fellmeth-Peterson Professor-in-Residence in Child Rights Jessica Heldman, '04 (JD), and Free to Thrive President and Managing Attorney Jamie Beck, '11 (JD), appear on NBC San Diego 7 News to discuss a new course which will allow students to connect directly with those impacted by human trafficking.
Read the full article and watch the video by NBC San Diego 7 here.
About the Children's Advocacy Institute
The Children's Advocacy Institute (CAI), founded at the nonprofit University of San Diego School of Law in 1989, is one of the nation's premiere academic, research, and advocacy organizations working to improve the lives of children and youth, with special emphasis on improving the child protection and foster care systems and enhancing resources that are available to youth aging out of foster care.
In its academic component, CAI trains law students and attorneys to be effective child advocates throughout their legal careers. Its Child Advocacy Clinic gives USD Law students three distinct clinical opportunities to advocate on behalf of children and youth, and its Dependency Counsel Training Program provides comprehensive training to licensed attorneys engaged in or contemplating Dependency Court practice.
CAI's research and advocacy component, conducted through its offices in San Diego, Sacramento, and Washington, D.C., seeks to leverage change for children and youth through impact litigation, regulatory and legislative advocacy, and public education. Active primarily at the federal and state levels, CAI's efforts are multi-faceted—comprehensively and successfully embracing all tools of public interest advocacy to improve the lives of children and youth. To support CAI's work, please visit law.sandiego.edu/caigift.
About Center for Public Interest Law
Founded in 1980, the University of San Diego School of Law's Center for Public Interest Law (CPIL) serves as an academic center of research and advocacy in regulatory and public interest law. CPIL focuses its efforts on the study of an extremely powerful, yet often overlooked, level of government: state regulatory agencies. Under the supervision of experienced public interest attorneys and advocates, CPIL law student interns study California agencies that regulate business, professions, and trades.
CPIL publishes the California Regulatory Law Reporter, a unique legal journal that covers the activities and decisions of over 12 major California regulatory agencies.
In addition to its academic program, CPIL has an advocacy component. Center faculty, professional staff, and interns represent the interests of the unorganized and underrepresented in California's legislature, courts, and regulatory agencies. CPIL attempts to make the regulatory functions of California government more efficient and visible by serving as a public monitor of state regulatory activity. The Center has been particularly active in reforming the state's professional discipline systems for attorneys and physicians, and in advocating public interest reforms to the state's open meetings and public records statutes.
About the University of San Diego School of Law
Recognized for the excellence of its faculty, curriculum and clinical programs, the University of San Diego (USD) School of Law educates approximately 800 Juris Doctor and graduate law students from throughout the United States and around the world. The law school is best known for its offerings in the areas of business and corporate law, constitutional law, intellectual property, international and comparative law, public interest law and taxation.
USD School of Law is one of the 84 law schools elected to the Order of the Coif, a national honor society for law school graduates. The law school's faculty is a strong group of outstanding scholars and teachers with national and international reputations and currently ranks 36th nationally among U.S. law faculties in scholarly impact and 29th nationally in past-year faculty downloads on the Social Sciences Research Network (SSRN). The school is accredited by the American Bar Association and is a member of the Association of American Law Schools. Founded in 1954, the law school is part of the University of San Diego, a private, independent, Roman Catholic university chartered in 1949.