USD Legal Clinics Administrative Director Eric Austin '11 (JD) Accepts Million Dollar Club Award
Legal Clinics Administrative Director Eric Austin '11 (JD) Accepts Million Dollar Club Award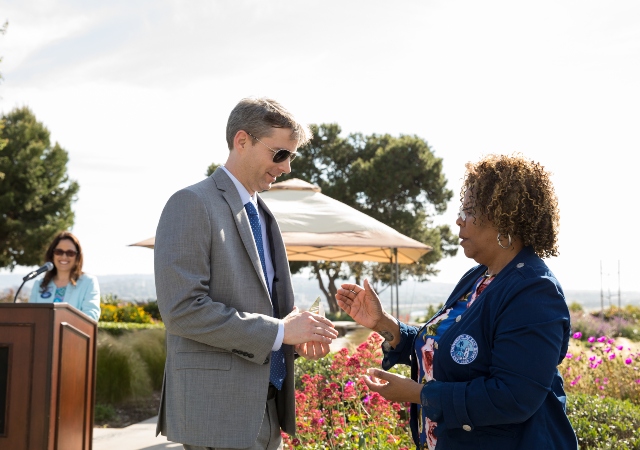 SAN DIEGO (August 2, 2019) – USD Legal Clinics Administrative Director Eric Austin accepted a Million Dollar Club award at this year's Faculty Recognition Reception presented by Provost Baker and the Office of Sponsored Programs.
Austin received his Juris Doctor (JD) from USD School of Law in 2011 and his Bachelor's from Northwestern University. He began working within the Education and Disability Clinic as well as the Landlord and Tenant Clinic while still in law school. He was looking for a way to have hands on experience and to work directly with clients. After receiving his JD, Austin worked as a law clerk within the Interviewing Counseling Clinic, which visited community organizations to provide outreach and legal services across San Diego. He became Administrative Director of the Legal Clinics in July 2016 and took on the responsibility of grant writing about 4 years ago.
The one million dollars of grants received was cumulative, spanning almost four years of efforts. Sponsors of the grants included the State Bar of California as well as the U.S. Department of Treasury – IRS, who visited the Legal Clinics during the process. USD School of Law legal clinics give students invaluable real-world skills while providing assistance to underserved members of the community. The funds from grants will be utilized to provide students with even more hands-on legal experience, while also making a difference for those needing legal representation.
"I am honored to receive this award from Provost Baker and the Office of Sponsored Programs on behalf of the USD Legal Clinics. I appreciate the University of San Diego recognizing the hard work of the law students, staff and professors at the USD Legal Clinics to provide free legal services to those individuals and families most in need in our San Diego community," said Austin.
About the University of San Diego School of Law
Recognized for the excellence of its faculty, curriculum and clinical programs, the University of San Diego (USD) School of Law educates approximately 800 Juris Doctor and graduate law students from throughout the United States and around the world. The law school is best known for its offerings in the areas of business and corporate law, constitutional law, intellectual property, international and comparative law, public interest law and taxation.
USD School of Law is one of the 84 law schools elected to the Order of the Coif, a national honor society for law school graduates. The law school's faculty is a strong group of outstanding scholars and teachers with national and international reputations and currently ranks 36th nationally among U.S. law faculties in scholarly impact and 29th nationally in past-year faculty downloads on the Social Sciences Research Network (SSRN). The school is accredited by the American Bar Association and is a member of the Association of American Law Schools. Founded in 1954, the law school is part of the University of San Diego, a private, independent, Roman Catholic university chartered in 1949.