USD School of Law Professor Lisa Ramsey Moderates Panel for the 10th Anniversary of Lindley Lecture on Law and Comics
Professor Lisa Ramsey Moderates Panel for the 10th Anniversary of Lindley Lecture on Law and Comics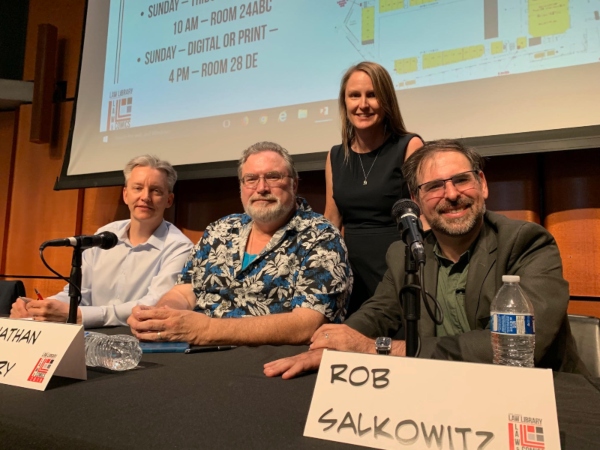 SAN DIEGO (July 25, 2019) – University of San Diego (USD) School of Law Professor Lisa Ramsey moderated a panel for the 10th annual Lindley Lecture on Law and Comics on July 16 at the San Diego Central Library. The special guest speakers included best-selling author Jonathan Maberry, consultant of popular culture, Rob Salowitz, and entertainment lawyer, Stu Rees.
The panel discussed the rights of creators and the legal protections available to them, focusing on fan-created content and cosplay and the balance of intellectual property protections and a creator's need to market their creation.
Click here to learn more about the panel.
About Professor Lisa Ramsey
Lisa Ramsey is a professor of law at the University of San Diego School of Law, where she teaches and writes in the areas of trademark law, intellectual property and international intellectual property. Her current scholarship and research focuses on the potential conflict between trademark and free speech rights in national and international laws. Professor Lisa Ramsey is a founding member of the Center for Intellectual Property Law and Markets. She recently participated on a panel at the International Trademark Association annual meeting that discussed consumer and brand owner reactions to fan works.
About the University of San Diego School of Law
Recognized for the excellence of its faculty, curriculum and clinical programs, the University of San Diego (USD) School of Law educates approximately 800 Juris Doctor and graduate law students from throughout the United States and around the world. The law school is best known for its offerings in the areas of business and corporate law, constitutional law, intellectual property, international and comparative law, public interest and taxation.
USD School of Law is one of the 84 law schools elected to the Order of the Coif, a national honor society for law school graduates. The law school's faculty is a strong group of outstanding scholars and teachers with national and international reputations and currently ranks 36th nationally among U.S. law faculties in scholarly impact and 29th nationally in past-year faculty downloads on the Social Sciences Research Network (SSRN). The school is accredited by the American Bar Association and is a member of the Association of American Law Schools. Founded in 1954, the law school is part of the University of San Diego, a private, independent, Roman Catholic university chartered in 1949.