Team Up with Alumni and Students on T.E.A.M.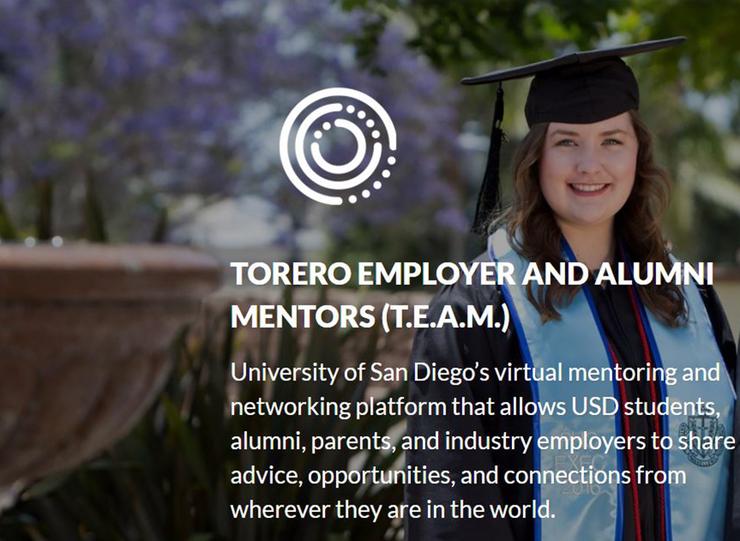 SAN DIEGO (April 9, 2019) – University of San Diego's Career Development Center recently launched a university-wide virtual networking, mentoring, and job posting platform– T.E.A.M.–Torero Employer and Alumni Mentors.
T.E.A.M. takes the place of the Alumni Network Directory in #HireUSDLaw–the law school's career management system–and provides an enhanced interactive experience. Students, alumni, parents, and employers can share advice, opportunities, and connections from anywhere in the world.
The T.E.A.M. platform has unlimited search capabilities including key words, geographic locations, industries, companies/organizations, majors, and degrees. USD School of Law is rolling out T.E.A.M. to alumni between April and August, and students will be invited to join the platform in the Fall 2019 semester. T.E.A.M. is open to all USD alumni and students, expanding the opportunity to network and make connections beyond the law community.
Flash mentoring enables alumni to connect with students and other alumni through short, session-based, single meetings in a low pressure environment by phone, video chat, or in-person with options to send messages and propose meeting days/times.
T.E.A.M. is seamlessly integrated with LinkedIn and Facebook to allow for easy login and data sharing. Users may log in with or sync to their LinkedIn and Facebook accounts after signup. T.E.A.M. also has direct integration with Indeed and automatically populates job postings.
"Once we have a critical mass of law alumni signed up in T.E.A.M., the platform will be a great resource for both law students and our law alumni," shared Molly Wescott, USD School of Law Assistant Dean of Career and Professional Development.
Shari Baurle Green, USD School of Law Associate Director of Alumni Relations added, "I am impressed with T.E.A.M.'s ease of use and how it increases the interconnectivity between all alumni and students. Law alumni will benefit from direct access to all USD alumni and a system with a technological infrastructure for networking, referrals, and job postings."
For questions and feedback, email mentoring@sandiego.edu.
About the University of San Diego School of Law
Recognized for the excellence of its faculty, curriculum and clinical programs, the University of San Diego (USD) School of Law educates approximately 800 Juris Doctor and graduate law students from throughout the United States and around the world. The law school is best known for its offerings in the areas of business and corporate law, constitutional law, intellectual property, international and comparative law, public interest law and taxation.
USD School of Law is one of the 84 law schools elected to the Order of the Coif, a national honor society for law school graduates. The law school's faculty is a strong group of outstanding scholars and teachers with national and international reputations and currently ranks 36th nationally among U.S. law faculties in scholarly impact and 29th nationally in past-year faculty downloads on the Social Sciences Research Network (SSRN). The school is accredited by the American Bar Association and is a member of the Association of American Law Schools. Founded in 1954, the law school is part of the University of San Diego, a private, independent, Roman Catholic university chartered in 1949.