USD School of Law Alumna Lilia Garcia '76 (BS), '81 (JD) Inducted into San Diego County Women's Hall of Fame
Lilia Garcia '76 (BS), '81 (JD) Inducted into San Diego County Women's Hall of Fame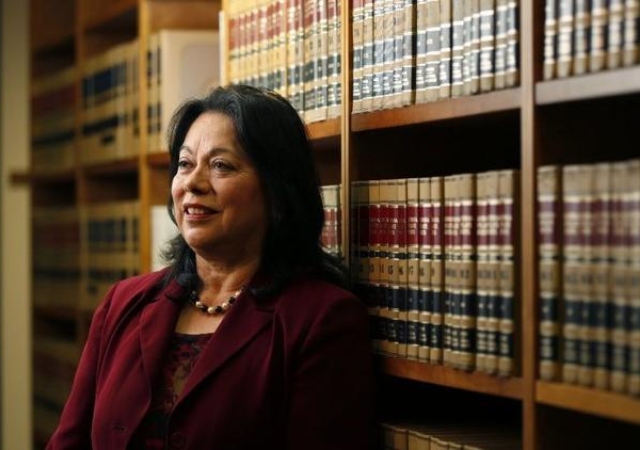 SAN DIEGO (March 19, 2019) – University of San Diego (USD) School of Law alumna Lilia Garcia, '76 (BS), '81 (JD), was inducted into the San Diego County Women's Hall of Fame on March 3, 2019. Garcia is a San Diego County deputy district attorney. This recognition as part of the San Diego County Women's Hall of Fame is based on her work training attorneys on both sides of the border and supporting other Latinas in the law throughout her 38 years in this career path.
Garcia was inspired to begin her career as early as eighth grade, when her class went to hear Attorney General Robert Kennedy's presidential campaign speech in San Ysidro. "In 1967, 1968, you didn't have people like me who were trial attorneys. Mexican and a woman," Garcia said. She used that inspiration to earn a full scholarship to USD School of Law.
Garcia was the first Latina to be hired in the State Attorney General's San Diego office criminal division. She later cross-trained into the San Diego County District Attorney's Office. After 32 years, she was hired as a San Diego County deputy district attorney in 2013.
"I feel very honored to be included in the group inducted this year," Garcia said.
The University of San Diego School of Law
Recognized for the excellence of its faculty, curriculum and clinical programs, the University of San Diego (USD) School of Law educates approximately 800 Juris Doctor and graduate law students from throughout the United States and around the world. The law school is best known for its offerings in the areas of business and corporate law, constitutional law, intellectual property, international and comparative law, public interest and taxation.
USD School of Law is one of the 84 law schools elected to the Order of the Coif, a national honor society for law school graduates. The law school's faculty is a strong group of outstanding scholars and teachers with national and international reputations and currently ranks 36th nationally among U.S. law faculties in scholarly impact and 29th nationally in past-year faculty downloads on the Social Sciences Research Network (SSRN). The school is accredited by the American Bar Association and is a member of the Association of American Law Schools. Founded in 1954, the law school is part of the University of San Diego, a private, independent, Roman Catholic university chartered in 1949.