USD School of Law Alumna Sharon L. Kalemkiarian '89 (JD) Honored by San Diego Family Law Bar Association as Family Law Jurist of the Year
Sharon L. Kalemkiarian '89 (JD) Honored by San Diego Family Law Bar Association as Family Law Jurist of the Year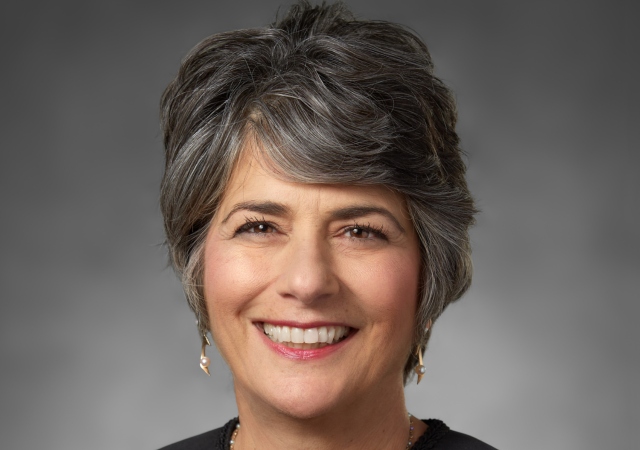 SAN DIEGO (January 4, 2019) – The San Diego Family Law Bar Association named University of San Diego (USD) School of Law alumna Judge Sharon Kalemkiarian, '89 (JD), the Family Law Jurist of the Year.
Judge Kalemkiarian was a family law certified specialist before taking the bench in 2014. She has been recognized especially for her success in involving children in the family court process.
Prior to her appointment, she was a partner at Ashworth, Blanchet, Christenson and Kalemkiarian. She has also served as an adjunct professor at the University of San Diego School of Law teaching family law and community property from 2010 to 2014, as director of San Diego Project Heartbeat from 1996-2000, which is an advocacy program for children and families with special needs, and as supervising attorney at the University of San Diego School of Law Child Advocacy Clinic, where she taught dependency law policy and advocacy for foster children from 1993-1996.
In addition, Judge Kalemkiarian served as a law clerk for the Honorable Gordon Thompson Jr. at the U.S. District Court, Southern District of California. She was the recipient of the Fay Stender Outstanding Service award from the California Women Lawyers in 2000.
Judge Kalemkiarian received her Bachelor's degree in 1979 from Princeton University and her Juris Doctor from the University of San Diego in 1989.
About the University of San Diego School of Law
Recognized for the excellence of its faculty, curriculum and clinical programs, the University of San Diego (USD) School of Law educates approximately 800 Juris Doctor and graduate law students from throughout the United States and around the world. The law school is best known for its offerings in the areas of business and corporate law, constitutional law, intellectual property, international and comparative law, public interest and taxation.
USD School of Law is one of the 84 law schools elected to the Order of the Coif, a national honor society for law school graduates. The law school's faculty is a strong group of outstanding scholars and teachers with national and international reputations and currently ranks 36th nationally among U.S. law faculties in scholarly impact and 29th nationally in past-year faculty downloads on the Social Sciences Research Network (SSRN). The school is accredited by the American Bar Association and is a member of the Association of American Law Schools. Founded in 1954, the law school is part of the University of San Diego, a private, independent, Roman Catholic university chartered in 1949.