USD Alumnus John Gomez '89 (BBA) Featured in San Diego Union Tribune for Funding New USD Law DACA Scholarship
John Gomez '89 (BBA) Featured in San Diego Union Tribune for Funding New DACA Scholarship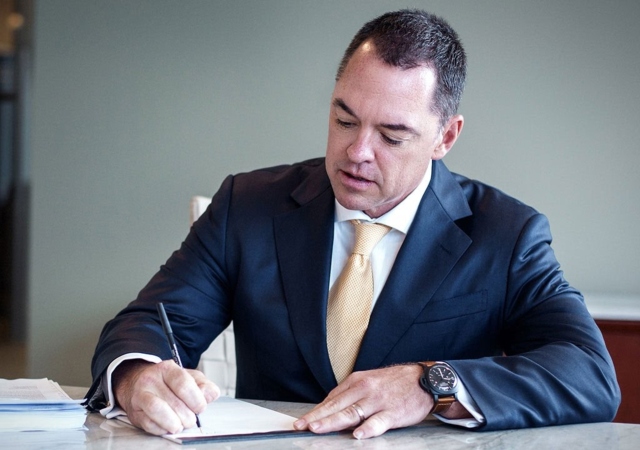 SAN DIEGO (September 11, 2018) – Last spring, when University of San Diego School of Law Dean Stephen C. Ferruolo raised the issue of a lack of support for DACA (Deferred Action for Childhood Arrivals) students and the need for a new fund for law students with DACA, USD alumnus John Gomez '89 (BBA) responded. Since then, John Gomez and the newly funded scholarship to support future DACA students have been featured multiple times in the media. John Gomez describes how his faith and his family inspired him to fund this new scholarship. "I feel compelled as a Christian — and my dad is from Mexico — to offer opportunities and acceptance to kids who through no fault of their own just didn't happen to have been born here," Gomez said. At USD School of Law there are other DACA students awaiting the support of generous donors like John Gomez.
The financial aid that DACA students can currently receive through the state of California is limited and federal loans are not available to them. According to a recent article in the San Diego Union Tribune, "gathering enough money to get a bachelor's can be challenging, let alone a graduate or professional program. In a recent survey of DACA recipients, just over 21 percent said they were working on a degree beyond a bachelor's. If their parents are in the U.S., they are generally not authorized to work, meaning they are often paid under the table with low wages. That limits the amount that their parents can contribute towards their education."
Dean Ferruolo states that, "he hopes the scholarship will grow in coming years to offer more support." And John Gomez closed the article with an important message to readers of the San Diego Union Tribune with the statement that, "No one becomes an attorney alone."
About the University of San Diego School of Law
Recognized for the excellence of its faculty, curriculum and clinical programs, the University of San Diego (USD) School of Law educates approximately 800 Juris Doctor and graduate law students from throughout the United States and around the world. The law school is best known for its offerings in the areas of business and corporate law, constitutional law, intellectual property, international and comparative law, public interest and taxation.
USD School of Law is one of the 84 law schools elected to the Order of the Coif, a national honor society for law school graduates. The law school's faculty is a strong group of outstanding scholars and teachers with national and international reputations and currently ranks 35th nationally and 6th on the West Coast among U.S. law faculties in scholarly impact and 20th nationally and 4th on the West Coast in past-year faculty downloads on the Social Sciences Research Network (SSRN). The school is accredited by the American Bar Association and is a member of the Association of American Law Schools. Founded in 1954, the law school is part of the University of San Diego, a private, independent, Roman Catholic university chartered in 1949.