USD School of Law Professor Lisa Ramsey Annual Guest of Honor Lecture at the University of Strasbourg
USD School of Law Professor Lisa Ramsey Annual Guest of Honor Lecture at the University of Strasbourg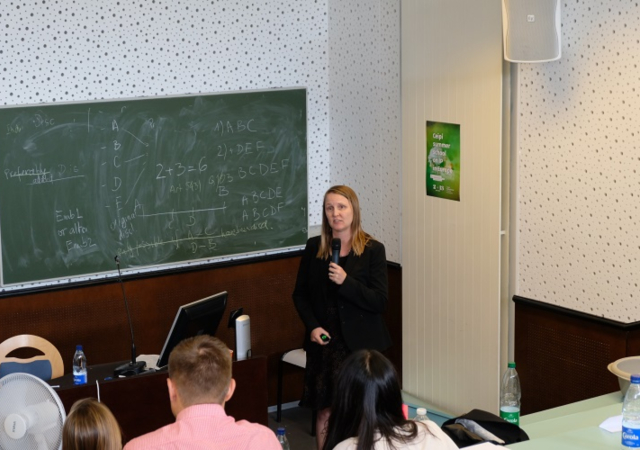 SAN DIEGO (August 31, 2018) – Professor Ramsey gave the annual guest of honor lecture at the University of Strasbourg's Center for International Intellectual Property Studies (CEIPI) Summer School this past July. The University of Strasbourg is one of the largest universities in France and CEIPI provides training in the intellectual property area for attorneys and students from all over the world. Professor Ramsey was invited by Professor Christophe Geiger, Director General of CEIPI, to speak as part of the Center's "(Re)Thinking Intellectual Property" lecture series. The topic of her presentation was "Resolving Conflicts Between Trademark Laws and Free Expression in the United States and Europe."
This year, Professor Ramsey also presented her paper "Free Speech Challenges to Trademark Law after Matal v. Tam" at the University of Houston's Conference on Trademark Law in Santa Fe, the Trademark Scholars Symposium at the International Trademark Association Annual Meeting in Seattle, the IP Speaker Series at Loyola Law School in Los Angeles, and the IP in the Trees Workshop at Lewis and Clark Law School in Portland. In addition, this April Ramsey served as a commentator for the Seventh Annual International Intellectual Property Scholars Roundtable at Duke Law School and participated in the Trademark Scholars Roundtable at the Chicago campus of Notre Dame Law School.
About the University of San Diego School of Law
Recognized for the excellence of its faculty, curriculum and clinical programs, the University of San Diego (USD) School of Law educates approximately 800 Juris Doctor and graduate law students from throughout the United States and around the world. The law school is best known for its offerings in the areas of business and corporate law, constitutional law, intellectual property, international and comparative law, public interest and taxation.
USD School of Law is one of the 84 law schools elected to the Order of the Coif, a national honor society for law school graduates. The law school's faculty is a strong group of outstanding scholars and teachers with national and international reputations and currently ranks 35th nationally and 6th on the West Coast among U.S. law faculties in scholarly impact and 20th nationally and 4th on the West Coast in past-year faculty downloads on the Social Sciences Research Network (SSRN). The school is accredited by the American Bar Association and is a member of the Association of American Law Schools. Founded in 1954, the law school is part of the University of San Diego, a private, independent, Roman Catholic university chartered in 1949.