CAI Helps Craft Bill to Stop Facebook and Other Social Media Sites from Sharing Children's Information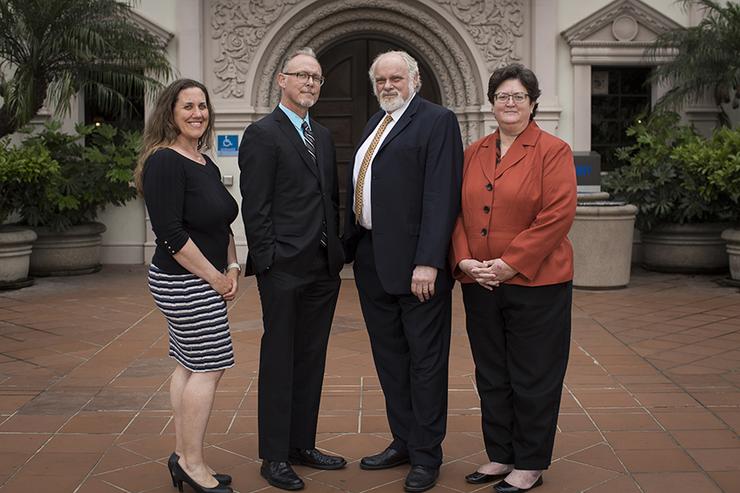 Sacramento (February 19, 2018) – The University of San Diego (USD) School of Law's Children's Advocacy Institute (CAI) was recently featured in the Los Angeles Times in an article that highlighted CAI's efforts to craft a bill to stop Facebook and other social media sites from sharing children's information without clear consent from their parents.
According to the article, CAI opposed a settlement with Facebook in 2013 that allowed Facebook to update its general use terms and conditions to specify that users' information can be used for advertising and presumes a child has parental permission.
"If you are under age of eighteen, you represent that a parent or legal guardian also agrees to this section on your behalf." Ed Howard, senior counsel at CAI said. "What it's saying to these kids is we can make as much money off of your name, your face and whatever you create as we want, without limitation and without paying you for it. And they are doing this in terms and conditions that would baffle most halfway decent lawyers, let alone kids."
The article states that the proposed legislation would prohibit websites and apps from allowing California minors to agree to their terms. Any details of permission from minors could not be buried in fine print of general use agreements. The legislation does not prevent companies from gathering information, but simply requires them to be transparent.
Read the full article here.
About the Children's Advocacy Institute
The Children's Advocacy Institute (CAI), founded at the nonprofit University of San Diego School of Law in 1989, is one of the nation's premiere academic, research, and advocacy organizations working to improve the lives of children and youth, with special emphasis on improving the child protection and foster care systems and enhancing resources that are available to youth aging out of foster care.
In its academic component, CAI trains law students and attorneys to be effective child advocates throughout their legal careers. Its Child Advocacy Clinic gives USD Law students three distinct clinical opportunities to advocate on behalf of children and youth, and its Dependency Counsel Training Program provides comprehensive training to licensed attorneys engaged in or contemplating Dependency Court practice.
CAI's research and advocacy component, conducted through its offices in San Diego, Sacramento, and Washington, D.C., seeks to leverage change for children and youth through impact litigation, regulatory and legislative advocacy, and public education. Active primarily at the federal and state levels, CAI's efforts are multi-faceted—comprehensively and successfully embracing all tools of public interest advocacy to improve the lives of children and youth. To support CAI's work, please visit law.sandiego.edu/caigift.
About the University of San Diego School of Law
The University of San Diego (USD) School of Law is recognized for the excellence of its faculty, depth of its curriculum, and strength of its clinical programs. Each year, USD educates approximately 800 Juris Doctor and graduate law students from throughout the United States and around the world. The law school is best known for its offerings in the areas of business and corporate law, constitutional law, intellectual property, international and comparative law, public interest and taxation.
USD School of Law is one of the 84 law schools elected to the Order of the Coif, a national honor society for law school graduates. The law school's faculty is a strong group of outstanding scholars and teachers with national and international reputations and currently ranks 35th nationally and 6th on the West Coast among U.S. law faculties in scholarly impact and 24th nationally and 6th on the West Coast in all-time faculty downloads on the Social Sciences Research Network (SSRN). The school is accredited by the American Bar Association and is a member of the Association of American Law Schools. Founded in 1954, the law school is part of the University of San Diego, a private, nonprofit, independent, Roman Catholic university chartered in 1949.