Meet BLSA Co-President and WRBLSA Chief of Staff Curtis Jackson '18 (JD)
Meet BLSA Co-President and WRBLSA Chief of Staff Curtis Jackson '18 (JD)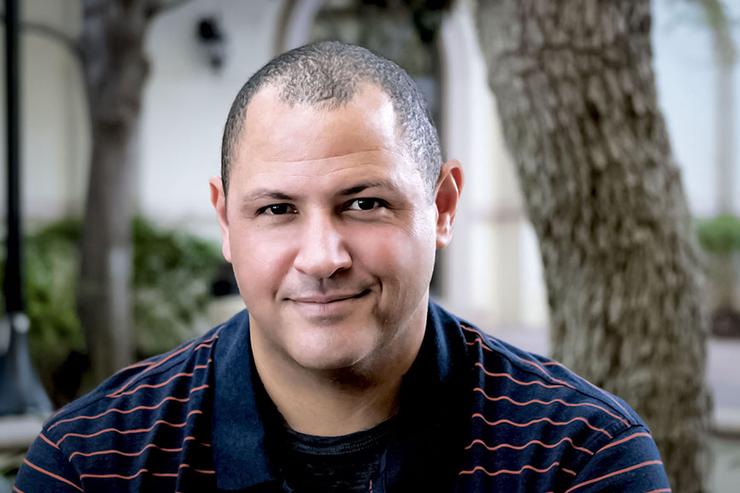 San Diego (November 9, 2017) - Fourth-year part-time student Curtis Jackson is keeping himself busy in his final year of law school. This past year, Jackson was appointed to the Western Regional Black Law Students Association (WRBLSA) as the chief of staff. WRBLSA is a part of the National Black Law Student Association (NBLSA), whose mission is to "increase the number of culturally responsible Black and minority attorneys who excel academically, succeed professionally, and positively impact the community." As chief of staff, Jackson will lend the president support, present new ideas and help where he can to achieve the organization's goals.
"It's great because the position of chief of staff allows me flexibility with my busy schedule," he says. "I still get to be very involved in WRBLSA, and I get to continue to put forward my ideas related to the organization."
In addition to his role with WRBLSA, Jackson is also the co-president of USD School of Law's Black Law Students Association (BLSA), a position he also held his 3L year (Jackson joined the organization his 1L year and was vice-president his 2L year). "BLSA tries to lend support to its member students, and I think that's what makes it so important. All law students need support, but not everyone has friends or family that they can get it from. There are very few Black lawyers today, and many minority students, like regular students, end up dropping out of law school. BLSA wants to make sure this doesn't happen – we want to encourage our members to stay in school, and a big way to do that is just being a friend and being there to support them."
When asked what he's most proud of with respect to BLSA, Jackson says it's "for sure the fact that we won Student Organization of the Year last year, which was a first for BLSA."
"I'm also really proud of Speaker Series we have lined up this year. We have Professor James Foreman from Yale coming in March to talk about his new book Locking Up Our Own: Crime and Punishment in Black America, and we have Richard Rostein from Berkeley coming in April to talk about his new book The Color of Law," he continues. Both books look at how laws created over the last century had direct impacts on Black and minority communities.
In addition to school and his roles at WRBLSA and USD's BLSA, Jackson has been the real estate manager for the City of Carlsbad for the last two years. At 27, he started working for the City of Oceanside as a property manager, where his boss was a lawyer. Wanting to follow a similar path as him career-wise, and knowing an advanced degree would be required, Jackson took a chance and decided to enroll at USD as a part-time student at the age of 34.
"The job I have now is actually the job I went to law school to get. I think being in law school helped me separate myself from the competition," he says. "And I've been very lucky that my work has been extremely supportive of me when it comes to school."
Jackson has also been married for just over five years and has two young kids, aged one and four. When asked where he finds time to do it all, he says "It's really a balancing act. For me, I started realizing what it is in my life that is really important to me – my family, my job, school. You just start cutting out the things that you realize aren't as important, or that you didn't even realize weren't important."
And something else that's really important to Jackson? "Camping," he says. "I try to make sure I go out at least once a year. I'm especially excited about this year's trip, I'm taking my four-year-old son for the first time, and he is extremely excited."
Fun Fact: Jackson also tries to make time to pursue one of his favorite hobbies, brewing beer. "Porters and stouts are my favorite. A few classmates of mine brew beer as well. We get together for an annual brewing party every year, which is really quite fun."
About the University of San Diego School of Law
The University of San Diego (USD) School of Law is recognized for the excellence of its faculty, depth of its curriculum, and strength of its clinical programs. Each year, USD educates approximately 800 Juris Doctor and graduate law students from throughout the United States and around the world. The law school is best known for its offerings in the areas of business and corporate law, constitutional law, intellectual property, international and comparative law, public interest and taxation.
USD School of Law is one of the 84 law schools elected to the Order of the Coif, a national honor society for law school graduates. The law school's faculty is a strong group of outstanding scholars and teachers with national and international reputations and currently ranks 35th nationally and 6th on the West Coast among U.S. law faculties in scholarly impact and 20th nationally and 4th on the West Coast in past-year faculty downloads on the Social Sciences Research Network (SSRN). The school is accredited by the American Bar Association and is a member of the Association of American Law Schools. Founded in 1954, the law school is part of the University of San Diego, a private, nonprofit, independent, Roman Catholic university chartered in 1949