The Dean's Closet: Now Accepting Donations of Lightly Worn Professional Attire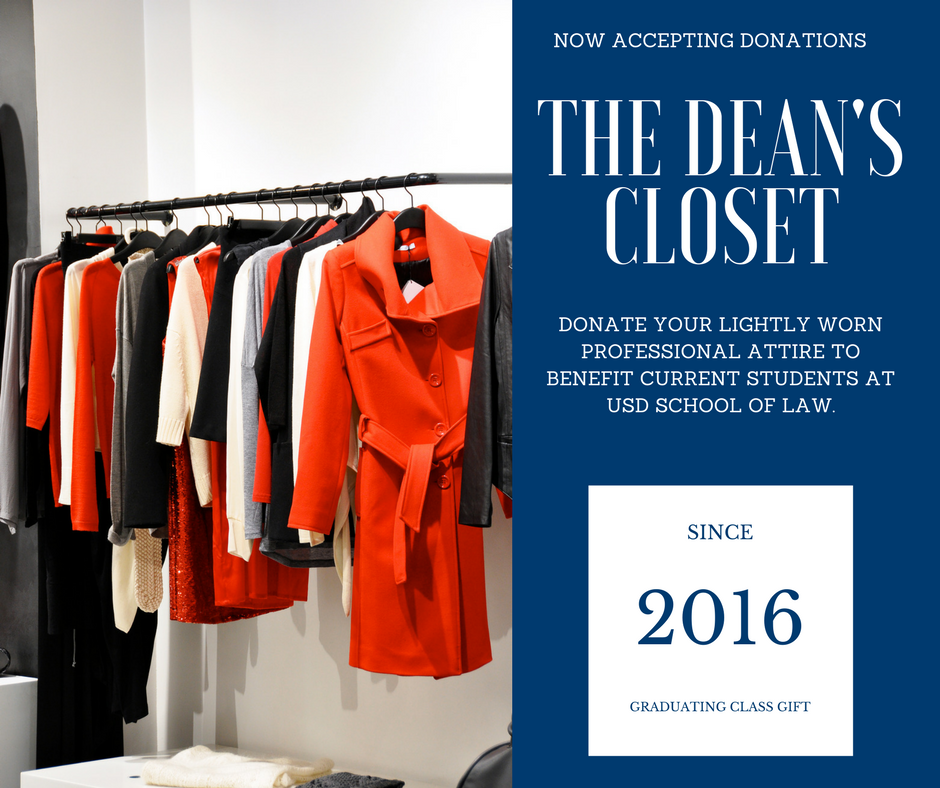 begin quote

Dress to Impress
San Diego (September 28, 2017) - The University of San Diego (USD) School of Law student body is excited to introduce The Dean's Closet.
This brand new program, spearheaded by the Class of 2016 as part of the Graduating Class Gift program, is designed to make sure that USD's law students are always dressed to impress when career opportunities arise, and to ensure they have access to a professional and clean wardrobe when they find themselves in a bind. The Dean's Closet will contain two major components:
A permanent closet at the law school that will be stocked with a variety of both men's and women's business clothing in sizes to accommodate most students. Students will be able to check out items when they need them, and will return them when they are finished.
An Open House event that will be held in early 2018. The program will provide an opportunity for all law students to take home gently used suits and business attire donated from the San Diego legal community.
The Dean's Closet is currently accepting donations for the Open House. Items to be accepted include:
Men's and Women's Suiting
Professional Shirts and Blouses
Dress Shoes and Heels
Accessories: Ties, Belts, Cufflinks, Tie-Clips, etc.
The Dean's Closet student-led committee is willing to pick up donations at your firm, home, or best place of convenience. Additionally, alumni and donors may drop off their lightly worn professional attire to USD on one of the following drop-off dates:
Saturday, October 21 from 10 a.m. - 2 p.m. (Writz Lounge, Warren Hall)
Wednesday, November 1 from 5:30 p.m. - 7:30 p.m. at Careers in the Law (Hahn University Center, Room Forums A, B, C)
Saturday, November 18 from 11 a.m. - 3 p.m.(Writz Lounge, Warren Hall)
Saturday, December 23 from 11 a.m. - 3 p.m. (Writz Lounge, Warren Hall)
Saturday, January 6 from 10 a.m. - 2 p.m. (Writz Lounge, Warren Hall)
If you are interested in scheduling a pick-up of your professional attire, please contact:
Morgan Small
msmall@sandiego.edu
(619) 312-5425
About the University of San Diego School of Law
The University of San Diego (USD) School of Law is recognized for the excellence of its faculty, depth of its curriculum, and strength of its clinical programs. Each year, USD educates approximately 800 Juris Doctor and graduate law students from throughout the United States and around the world. The law school is best known for its offerings in the areas of business and corporate law, constitutional law, intellectual property, international and comparative law, public interest and taxation.
USD School of Law is one of the 84 law schools elected to the Order of the Coif, a national honor society for law school graduates. The law school's faculty is a strong group of outstanding scholars and teachers with national and international reputations and currently ranks 35th nationally and 6th on the West Coast among U.S. law faculties in scholarly impact and 20th nationally and 4th on the West Coast in past-year faculty downloads on the Social Sciences Research Network (SSRN). The school is accredited by the American Bar Association and is a member of the Association of American Law Schools. Founded in 1954, the law school is part of the University of San Diego, a private, independent, Roman Catholic university chartered in 1949.