USD School of Law Alumna Abigail Stephenson '10 (JD) Named Co-President of Reno/Tahoe Torero Club
Abigail Stephenson '10 (JD) Named Co-President of Reno/Tahoe Torero Club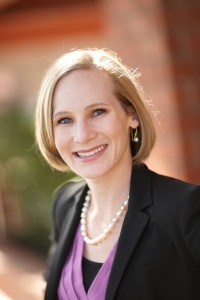 Reno, Nev. (May 7, 2017) – University of San Diego (USD) School of Law alumna Abigail "Abbey" Stephenson, '10 (JD), is the new co-president of the Reno/Tahoe Torero Club along with her husband Tyson Stephenson, '14 (MS). Stephenson is the partner-in-charge of Blanchard, Krasnser & French's new Reno office. She joined Blanchard, Krasnser and French's La Jolla office in 2011 and her primary practice areas include business law, estate planning, and trademark prosecution.
Stephenson moved to northern Nevada to head the Reno office which opened in December 2016. Her husband's family is from Carson City, so the relocation to Reno has allowed them to move closer to their family. "It was a wonderful opportunity for our family to come home so to speak," Stephenson said.
Stephenson is a member of the Northern Nevada's Center for Entrepreneurship and Technology, the Economic Development Authority of Western Nevada, the Washoe County Bar Association, the Nevada Women Lawyers Association, and the Estate Planning Council of Northern Nevada.
Giving back to the community is an important part of the firm's culture. Blanchard, Krasner & French is already involved with the Big Brothers Big Sisters of Northern Nevada, Ronald McDonald House of Northern Nevada, Transforming Youth Recovery, the Nevada Museum of Art, and the Sierra Arts Foundation.
"We want to be involved here," Stephenson said. "We want to be active members of the community and we want to give back."
Serving as co-presidents of the Reno/Tahoe Torero Club, Abbey and Tyson Stephenson are leading the effort to bring the USD community in Reno and Tahoe together.
There are approximately 480 USD alumni in the Reno/Tahoe area and northern Nevada is a growing job market with companies like Apple and Tesla coming to Reno. According to a report by the Economic Development Authority of Western Nevada, northern Nevada is expected to add around 50,000 jobs by 2019.
The Reno/Tahoe Torero Club Launch Reception is on Tuesday, May 2, at Blanchard, Krasner & French, and is co-sponsored by the firm, USD Alumni Relations, and USD Law Alumni Relations. USD's Torero Clubs include alumni, students, and parents.