Cory DiBene Wins 14th Annual Paul A. McLennon Sr. Moot Court Competition
Cory DiBene '18 Wins 14th Annual McLennon Moot Court Competition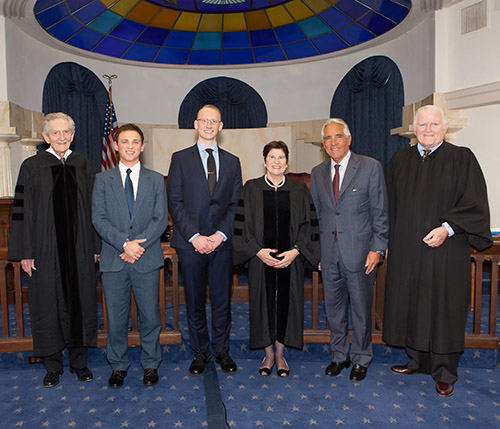 San Diego (April 4, 2017) – University of San Diego (USD) School of Law second-year student Cory DiBene won the 14th Annual Paul A. McLennon, Sr., Honors Moot Court Competition, held March 29 in Warren Hall's Grace Courtroom.
The Paul A. McLennon, Sr., Honors Moot Court Competition provides an opportunity for students to develop their brief writing and advocacy skills and to test these skills in an open, rigorous competition. Organized by the Appellate Moot Court Board, the competition consists of several preliminary rounds, culminating in the final round argued before a distinguished panel of judges. This competition was established by USD Professor Michael Devitt to honor longtime family friend, attorney and naval officer, Paul A. McLennon, Sr. In this year's fictitious case, Leonard McCoy v. Thomas Taylor, Respondent Thomas Taylor, a former Sheriff's Sergeant in the Oildale County Sheriff's Department ("OCSD"), filed a complaint against Petitioner Leonard McCoy, Sheriff of Oildale County. McCoy terminated Taylor after Taylor submitted an opinion piece to the Oildale Tribune criticizing McCoy's controversial statements on illegal immigration. Upon his dismissal, Taylor was provided a termination letter from McCoy that listed OCSD's justifications for removing Taylor. A copy of this termination letter was placed in Taylor's personnel file for record keeping. Taylor argues he was terminated for engaging in constitutionally protected speech, in violation of his First Amendment rights, and that McCoy's termination letter contained falsities likely to place a stigma on his reputation, in violation of his Fourteenth Amendment rights. McCoy asserts that his termination of Taylor was permissible because Taylor served in a "policymaking" position and that the statements in the termination letter were not stigmatizing nor made public, and therefore, no constitutional violations took place. The oral argument was presided over by Hon. J. Clifford Wallace, Senior Circuit Judge, Ninth Circuit Court of Appeals; Hon. M. Margaret McKeown, Circuit Judge, Ninth Circuit Court of Appeals and Hon. Thomas J. Whelan, District Judge, Southern District of California.
2017 McLennon Final Round Results
First Place Overall: Cory DiBene
Second Place Overall: Maurice Bumbu
Third Place Overall: Brandon Lallande
Fourth Place Overall: Donel Lopez
Best Individual Oralists
First Place: Tommy Diamond
Second Place: Cory DiBene
Third Place: Brandon Lallande
Best Respondent Briefs
First Place: Janice Tang
Second Place: Marco Lucido
Third Place: Alexandra Happersett
Best Petitioner Briefs
First Place: Julianna Odin
Second Place: Cory DiBene
Third Place: Conor Dale
About the University of San Diego School of Law
The University of San Diego (USD) School of Law is recognized for the excellence of its faculty, depth of its curriculum, and strength of its clinical programs. Each year, USD educates approximately 800 Juris Doctor and graduate law students from throughout the United States and around the world. The law school is best known for its offerings in the areas of business and corporate law, constitutional law, intellectual property, international and comparative law, public interest and taxation.
USD School of Law is one of the 84 law schools elected to the Order of the Coif, a national honor society for law school graduates. The law school's faculty is a strong group of outstanding scholars and teachers with national and international reputations and currently ranks 35th nationally and 6th on the West Coast among U.S. law faculties in scholarly impact and 24th nationally and 6th on the West Coast in all-time faculty downloads on the Social Sciences Research Network (SSRN). The school is accredited by the American Bar Association and is a member of the Association of American Law Schools. Founded in 1954, the law school is part of the University of San Diego, a private, nonprofit, independent, Roman Catholic university chartered in 1949.