USD School of Law Moot Court Members Win First Place at Capital Moot Court Competition
USD School of Law Moot Court Members Win First Place at Capital Moot Court Competition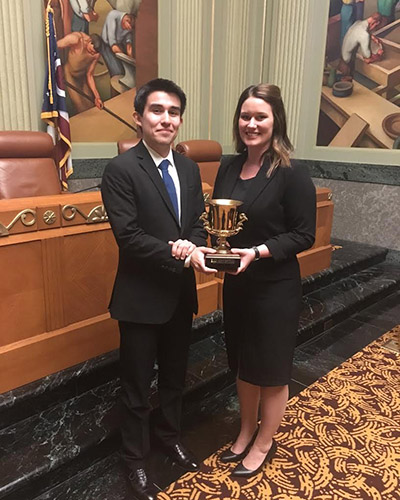 San Diego (March 15, 2017) - Last weekend, two University of San Diego (USD) School of Law Moot Court members and second year law students, Ryan Ramos and Kendra Tovey, took first place in the Child Welfare and Adoption Law Moot Court Tournament at Capital University Law School in Columbus, Ohio. Both students were also both recognized individually for their oral advocacy skills. Tovey was awarded 9th Place Oralist and Ramos was awarded 2nd Place Oralist.
The case centered around the petitioner, a mother of a three-year-old child diagnosed with both intellectual deficiencies and mental health disabilities, and afflicted with substance abuse issues throughout her life. Respondent was the County's Department of Child Protective Services, who recently adjudicated the child as "neglected" and removed her from her mother's care -- terminating petitioner's parental rights. Two questions were on appeal to the Supreme Court of the fake state of "Capitania" -- whether the Americans with Disabilities Act (ADA) applies to termination of parental rights proceedings (argued by Ramos) and whether termination of petitioner's parental rights was "clearly erroneous" (argued by Tovey).
In the final round, Ramos and Tovey represented Respondent against a team from Loyola Law School. According to the coach, Patrick Mulkern, both handled questions from a stacked panel, one that included a current Justice of the Ohio Supreme Court, with remarkable ease. Ultimately, Tovey and Ramos won first place.
Congratulations to Ryan and Kendra!
About the University of San Diego School of Law
The University of San Diego (USD) School of Law is recognized for the excellence of its faculty, depth of its curriculum, and strength of its clinical programs. Each year, USD educates approximately 800 Juris Doctor and graduate law students from throughout the United States and around the world. The law school is best known for its offerings in the areas of business and corporate law, constitutional law, intellectual property, international and comparative law, public interest and taxation.
USD School of Law is one of the 84 law schools elected to the Order of the Coif, a national honor society for law school graduates. The law school's faculty is a strong group of outstanding scholars and teachers with national and international reputations and currently ranks 35th nationally and 6th on the West Coast among U.S. law faculties in scholarly impact and 24th nationally and 6th on the West Coast in all-time faculty downloads on the Social Sciences Research Network (SSRN). The school is accredited by the American Bar Association and is a member of the Association of American Law Schools. Founded in 1954, the law school is part of the University of San Diego, a private, nonprofit, independent, Roman Catholic university chartered in 1949.