USD School of Law Professors Orly Lobel and Mila Sohoni Nominated for 2016 Woman of Impact Award
Professors Lobel and Sohoni Nominated for 2016 Woman of Impact Award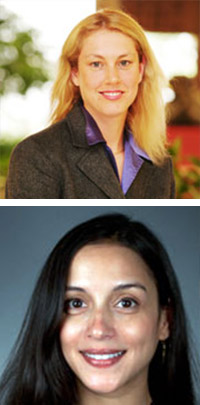 San Diego (December 8, 2016) – Congratulations to University of San Diego (USD) School of Law Professors Orly Lobel and Mila Sohoni for being nominated for the 2016 Woman of Impact Award.
Both professors were recognized at the annual Women of Impact Luncheon and Awards Ceremony hosted by the Women's Center on Friday, December 2.
According to the Women's Center, a Woman of Impact is one who lives principles of social justice. Through her work, activities, and relationships she supports others in finding voice, developing skills for transformation and understanding who they are called to be. Her community is not merely a place in which she exists; it is a place she actively improves.
All nominees and their nominators were invited to attend the Women of Impact Luncheon and were honored as strong women exhibiting leadership and positively influencing the USD community. Congratulations again to Professors Lobel and Sohoni!
About Professor Orly Lobel
An internationally acclaimed expert in the law and economics of human capital, Orly Lobel is the Don Weckstein Professor of Labor and Employment Law at the University of San Diego and founding faculty member of the Center for Intellectual Property and Markets. She teaches and writes in the areas of employment law, intellectual property law, regulatory and administrative law, torts, behavioral economics, health policy, consumer law and trade secrets. Her current research focuses on innovation policy and intellectual property. Lobel's latest book is Talent Wants to be Free: Why We Should Learn to Love Leaks, Raids, and Free-Riding.
About Professor Mila Sohoni
Mila Sohoni teaches and writes in the areas of civil procedure, administrative law, federal courts, legislation and health law. Sohoni graduated cum laude from Harvard Law School and was a Rotary Foundation Ambassadorial Scholar at Cambridge University, where she received her MPhil with distinction (first class) in the history and philosophy of science. Sohoni's article 'Crackdowns' received the honorable mention in the 2017 Scholarly Papers Competition sponsored by the Association of American Law Schools (AALS) and was also awarded the AALS Section on Criminal Justice's Junior Scholar Award for 2017.
About the University of San Diego School of Law
The University of San Diego (USD) School of Law is recognized for the excellence of its faculty, depth of its curriculum, and strength of its clinical programs. Each year, USD educates approximately 800 Juris Doctor and graduate law students from throughout the United States and around the world. The law school is best known for its offerings in the areas of business and corporate law, constitutional law, intellectual property, international and comparative law, public interest and taxation.
USD School of Law is one of the 84 law schools elected to the Order of the Coif, a national honor society for law school graduates. The law school's faculty is a strong group of outstanding scholars and teachers with national and international reputations and currently ranks 35th nationally and 6th on the West Coast among U.S. law faculties in scholarly impact and 24th nationally and 6th on the West Coast in all-time faculty downloads on the Social Sciences Research Network (SSRN). The school is accredited by the American Bar Association and is a member of the Association of American Law Schools. Founded in 1954, the law school is part of the University of San Diego, a private, independent, Roman Catholic university chartered in 1949.