USD School of Law Moot Court Team Places Third at Jessup Pacific Super Regionals
USD School of Law Moot Court Team Places Third at Jessup Pacific Super Regionals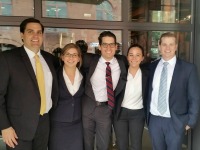 San Diego (March 3, 2016) – USD School of Law National Moot Court team placed third and was a semi-finalist this weekend in the Jessup Pacific Super Regionals. The team was comprised of Hailey Williams, Ben Cooper, Kayla Lynk, Cody Wisniewski and Shane Tobin.
The team was ranked third going into the quarter-finals, where they defeated UC Irvine, a traditional powerhouse in Jessup. The team ultimately lost a split decision in the semi-finals.
Williams, a 3L at USD School of Law, won fourth best oralist out of 80. Winning 4th best oralist means she averaged at least a 92 through her preliminary rounds. In one round, she received a 98.
Wisniewski, also a 3L at USD School of Law, performed in the first round of the competition against the University of Denver, who is a repeat winner of this competition, He received scores in the mid to high 90s. The judges all commented on Wisniewski's creativity and unique abilities at the podium.
Cooper and Lynk, both USD School of Law 2Ls, had incredible poise and grace at the podium. Cooper delivered two outstanding arguments in the quarter and semi-finals.
Tobin, also a 2L at USD School of Law, was the team's researcher and brief assistant. A huge asset to the team, Tobin was enthusiastic, at every practice, and provided great insight. He researched the tough issues through each phase of the competition.
The team was coached by USD School of Law alumnus Peter Stockburger, '09 (JD). This was Stockburger's seventh time coaching a USD School of Law Moot Court team in the Jessup competition. He also competed in Jessup twice as a student.
The team was also on the cusp of making it into the top 10 oralist rankings. They received recognition for 8th best brief out of 40.
About the University of San Diego School of Law
The University of San Diego (USD) School of Law is recognized for the excellence of its faculty, depth of its curriculum, and strength of its clinical programs. Each year, USD educates approximately 900 Juris Doctor and graduate law students from throughout the United States and around the world. The law school is best known for its offerings in the areas of business and corporate law, constitutional law, intellectual property, international and comparative law, public interest and taxation.
USD School of Law is one of the 81 law schools elected to the Order of the Coif, a national honor society for law school graduates. The law school's faculty is a strong group of outstanding scholars and teachers with national and international reputations and currently ranks 23rd worldwide in all-time faculty downloads on the Social Sciences Research Network (SSRN). The school is accredited by the American Bar Association and is a member of the Association of American Law Schools. Founded in 1954, the law school is part of the University of San Diego, a private, nonprofit, independent, Roman Catholic university chartered in 1949.