USD Law Students Jillian Ewan and Bob Schultz Win 1st Place at Emory Law School's Civil Rights and Liberty Moot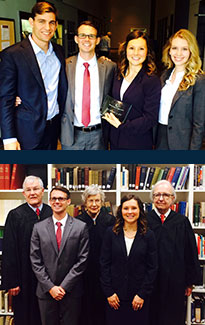 Atlanta (October 12, 2014) – University of San Diego (USD) School of Law students Jillian Ewan, '15 (JD), and Bob Schultz, '15 (JD), members of the USD School of Law Appellate Moot Court Board, earned first place in the 6th Annual Emory University School of Law Civil Rights and Liberties Moot Court Competition. USD School of Law students Brittany Hogard, '15 (JD), and Curtis Abram, '15 (JD), also competed and advanced to the quarter-final round (top 8).
The national competition was held October 10-12, 2014 at the Emory University School of Law. A total of 24 teams competed. The USD team of Ewan and Schultz defeated Florida Coastal School of Law in the final round. Judge Morris Arnold and William Duane Benton, of the 8th Circuit Court of Appeals, and Judge Jane Roth of the 3rd Circuit Court of Appeals presided over the final round.
"The win at Emory was the result of all four team members making each other better, round after round," said USD alumnus Gary Schons, '76 (JD), '73 (BA), who coached the team to success.
Ewan, also the chairperson of USD's Appellate Moot Court Board, noted it was a competitive tournament.
"I really enjoyed the atmosphere," said Ewan. "The Emory Moot Court Board was extremely helpful and the competitors were cordial. Bob and I would not have succeeded if it were not for our coach, Gary Schons, and our teammates, Curtis Abram and Brittany Hogard. Our combined preparation allowed us to succeed."
About the Appellate Moot Court Board
The University of San Diego School of Law Appellate Moot Court Board is a student-run organization dedicated to fostering the development of appellate advocacy skills among law students. The Board's mission is an amalgam of academic rigor and professional training. Each year, the USD's best appellate advocates travel to competitions throughout the country to showcase their advocacy skills.
About the University of San Diego School of Law
Celebrating 60 years of alumni success, the University of San Diego (USD) School of Law is recognized for the excellence of its faculty, depth of its curriculum, and strength of its clinical programs. Each year, USD educates approximately 900 Juris Doctor and graduate law students from throughout the United States and around the world. The law school is best known for its offerings in the areas of business and corporate law, constitutional law, intellectual property, international and comparative law, public interest and taxation.
USD School of Law is one of the 81 law schools elected to the Order of the Coif, a national honor society for law school graduates. The law school's faculty is a strong group of outstanding scholars and teachers with national and international reputations and currently ranks 23rd worldwide in all-time faculty downloads on the Social Sciences Research Network (SSRN). The school is accredited by the American Bar Association and is a member of the Association of American Law Schools. Founded in 1954, the law school is part of the University of San Diego, a private, nonprofit, independent, Roman Catholic university chartered in 1949.