Third-year Students Erin Casey and Catherine Huang Win Second Place in the Chicago Bar Assoc. Moot Court Competition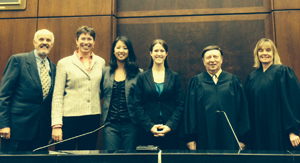 Chicago (November 19, 2013) – University of San Diego (USD) School of Law students Erin Casey and Catherine Huang won second place in the 31st Annual Chicago Bar Association Moot Court Competition.
The competition was held November 14-16 at the Dirksen United States Courthouse in Chicago. Competeing in this year's tournament were 27 teams from 19 law schools including Northwestern, Wisconsin, University of Southern California, and Washington University. Casey and Huang, both third-year students, faced a team from Florida Coastal School of Law in the final round. Illinois Lieutenant Governor Sheila Simon; Judge Martin Moltz, Circuit Court of Cook County; and Judge Janet Baer, United States Bankruptcy Court for the Northern District of Illinois, presided over the final round.
The competition problem raised issues of the proper forum for judicial review of workers competition claims arising under the federal Defense Base Act and Longshore & Harbor Workers Compensation Act. Students addressed whether an administrative law judge properly determined the claimant's spouse was murdered by a fellow employee and whether that murder was covered under the Longshore Act.
The USD team was coached by Deputy District Attorney and Senior Advisor for Law and Policy Gary Schons, '76 (JD).
"Erin and Cathy demonstrated absolute grasp of the case, its underlying facts and the complexity of the issues," said Schons, "and presented their arguments with poise and personality."
About the Appellate Moot Court Board
The University of San Diego School of Law Appellate Moot Court Board is a student-run organization dedicated to fostering the development of appellate advocacy skills among law students. The Board's mission is an amalgam of academic rigor and professional training. Each year, the USD's best appellate advocates travel to competitions throughout the country to showcase their advocacy skills.
About the University of San Diego School of Law
Recognized for the excellence of its faculty, curriculum and clinical programs, the University of San Diego (USD) School of Law enrolls approximately 900 Juris Doctor and graduate law students from throughout the United States and around the world. The law school is best known for its offerings in the areas of business and corporate law, constitutional law, intellectual property, international and comparative law, public interest law, and taxation.
USD School of Law is one of the 81 law schools elected to the Order of the Coif, a national honor society for law school graduates. The law school's faculty is a strong group of outstanding scholars and teachers with national and international reputations and currently ranks 23rd worldwide in all-time faculty downloads on the Social Sciences Research Network (SSRN). The school is accredited by the American Bar Association and is a member of the Association of American Law Schools. Founded in 1954, the law school is part of the University of San Diego, a private, nonprofit, independent, Roman Catholic university chartered in 1949.