Presidential Candidate Dr. Jill Stein to Speak at USD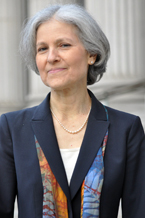 San Diego (September 20, 2012) – Green Party presidential candidate Dr. Jill Stein will speak at the University of San Diego (USD) on September 26, 2012 at 10:30 a.m. at the university's Pardee Legal Research Center, room 132.
Invited by the university's Environmental Law Society (ELS) to speak to the campus about her party's platform, Stein will deliver a presentation titled, "New Green Deal." She will discuss ending unemployment by investing in green jobs, forgiving student debt and creating tuition-free higher education, ending tax giveaways for the wealthy, and stopping climate change and ending the oil wars.
"The opportunity to meet and discuss national issues with an actual presidential candidate is rare for college students," said ELS President and third-year law student Joseph Yurgil. "The primary goal of ELS is to increase awareness of environmental issues and their legal, political and social implications. Dr. Stein's research background and the Green Party's focus on investing in "green jobs" fits in nicely with what our organization is all about."
Stein is the co-author of two widely cited reports, In Harm's Way: Toxic Threats to Child Development, published in 2000, and Environmental Threats to Healthy Aging, published in 2009. In Harm's Way has been translated into four languages and is used worldwide. Both reports promote green local economies, sustainable agriculture, clean power, and freedom from toxic threats.
Based on the two reports, Stein's "Healthy People, Healthy Planet" teaching program reveals the links between human health, climate security, and green economic revitalization. The program has been presented at government, public health and medical conferences, and has been used to improve public policy.
Dr. Stein will answer questions from the audience after her presentation.
About Dr. Jill Stein
In 2002, Dr. Jill Stein ran for Governor of Massachusetts as the candidate from the Green-Rainbow Party against Shannon O'Brien (Dem.) and Mitt Romney (Rep.), who won the election. She was widely credited with being the best-informed and most credible candidate in the race. Stein represented the Green-Rainbow Party in two additional races, one for State Representative in 2004 and one for Secretary of State in 2006. In 2006 she, won the votes of more than 350,000 Massachusetts citizens, which represented the greatest vote total ever for a Green-Rainbow candidate.
In 2008, Stein helped formulate a "Secure Green Future" ballot initiative that called upon legislators to accelerate efforts to move the Massachusetts economy to renewable energy and make development of green jobs a priority. The measure won over 81 per cent of the vote in the 11 districts in which it was on the ballot.
Stein was born in Chicago and raised in suburban Highland Park, Illinois. She graduated magna cum laude from Harvard College in 1973, and from Harvard Medical School in 1979. She is a mother, physician, longtime teacher of internal medicine, and pioneering environmental-health advocate.
About the Environmental Law Society
USD School of Law's Environmental Law Society (ELS) is a student-led organization that was created to increase awareness of environmental issues and their legal, political and social implications. The organization provides law students practical experience in the field of environmental law as well as opportunities for students to connect with local attorneys and other professionals working in the field. ELS encourages and helps organizes green and sustainable initiatives on the USD campus and in the San Diego community.
About the University of San Diego School of Law
Recognized for the excellence of its faculty, curriculum and clinical programs, the University of San Diego (USD) School of Law enrolls approximately 1,000 Juris Doctor and graduate law students from around the United States and throughout the world. The law school is best known for its offerings in the areas of tax, intellectual property, international law, public interest, and business and corporate law.
USD School of Law is one of the 81 law schools elected to the Order of the Coif, a national honor society for law school graduates. The school is accredited by the American Bar Association and is a member of the Association of American Law Schools. Founded in 1954, the law school is part of the University of San Diego, a private, nonprofit, independent, Roman Catholic university chartered in 1949.