Honoring Daniel F. Mulvihill and Creating a Win-Win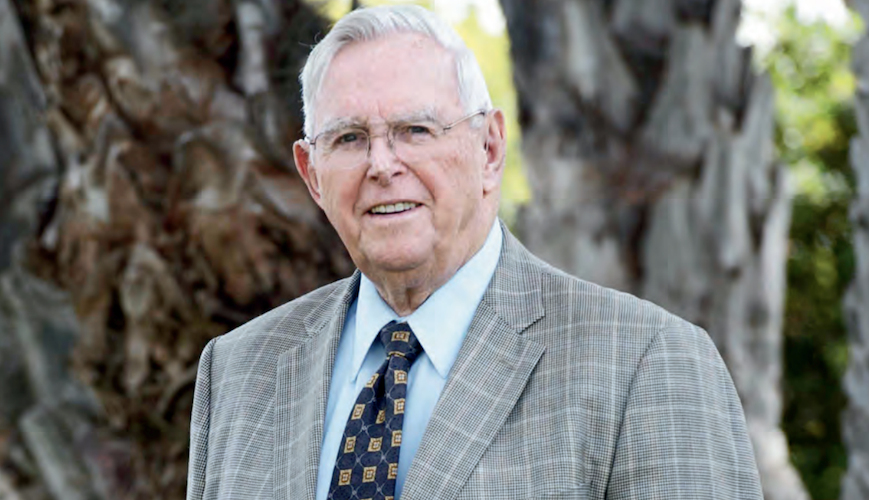 In Jan. 2021, the University of San Diego School of Business created the Daniel F. Mulvihill Endowed Chair. As a founder of the USD School of Business real estate program, the University had originally honored Daniel Mulvihill with the naming of a professorship. With the establishment of a new Real Estate Department within the USD School of Business on July 1, 2020, coincidentally on the same day that Mulvihill passed away at the age of 93, it was truly fitting to move the Mulvihill name to a fully endowed chair.
Through careful realignment of all of the existing endowed funds that support the USD School of Business real estate faculty, the Burnham-Moores Center, together with USD School of Business, created the Mulvihill Endowed Chair and designated it specifically for the Chair of the Real Estate Department. Charles Tu, PhD, who previously held the professorship title, now holds the title Daniel F. Mulvihill Endowed Chair, Real Estate Department; and academic director, Master of Science in Real Estate program.
Mulvihill's family was consulted about the new endowment name and is extremely pleased about this honor in perpetuity. The realignment of real estate endowed funds uncovered an opportunity for a new donor to name a second endowed chair in real estate as part of the Burnham-Moores Center for Real Estate's "Campaign for Student Success," with a gift at substantially less than the current $2 million minimum to name an endowed chair.
Mulvihill's leadership was instrumental to the initial creation of the USD School of Business real estate program more than 25 years ago. His legacy will continue to impact the future success of USD real estate students.
The ability to attract and retain top real estate faculty to the USD School of Business will be further enhanced with the opportunity for this second endowed chair within the Department of Real Estate. This will allow the program to continue to deliver the best in real estate education—a true win-win.
For information on the gift opportunity to name a new endowed chair in real estate, please contact:
Stath Karras
Executive Director
Burnham-Moores Center for Real Estate
sjkarras@sandiego.edu
(858) 204-5085
or
MaryAnn F. Stewart
Executive Advisor for Philanthropy
Burnham-Moores Center for Real Estate
mafstewart@gmail.com
(858) 243-0828