Song-Brown Grant Funds Used to Purchase Virtual Reality Units and Scenarios
Funds also used to purchase a special mannequin that can change features and skin tomes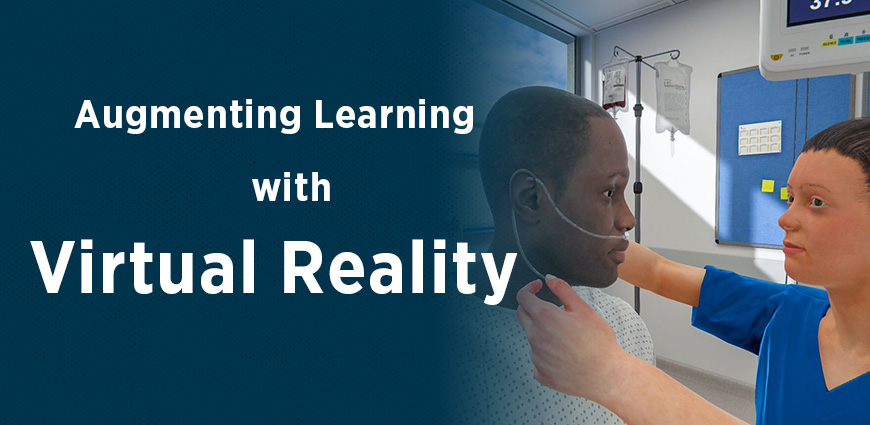 begin quote

Our mission at the School of Nursing is to educate providers who look like the people we serve.
Watch the video here
USD Hahn School of Nursing and Health Science Associate Dean Kathy Marsh and the MEPN program are excited about a state grant that provided funds for virtual reality equipment.
The $96,400 Song-Brown grant from the California Healthcare Workforce Commission was used to purchase five Virtual Reality units and numerous scenarios so students can supplement their learning experience in a 3D environment. Dr. Marsh specifically purchased a few scenarios that simulate providing care for a homeless patient.
"Part of the Song-Brown Commission asks how you are going to increase diversity," Marsh said. "So what we wanted to do was we also wanted to expand pre-licensure nursing awareness of working with homeless. So I wrote this grant that said we are increasing our diversity, but we want to teach diverse nurses now about homelessness and how they could become workers in public health or out in the community."
In fact, Dr. Marsh says that in the years since she has been at USD SON, increasing diversity has been a priority; USD SON has increased its diverse student population from 24% to 48%.
Before the grant funds were spent on virtual reality equipment, the plan was to utilize standardized patients to simulate a homeless encampment in the Beyster Institute for Nursing Research Plaza. Students would walk around the "encampment" and treat the standardized patients. But once USD SON moved to a flipped, online class environment because of the COVID-19 pandemic, the need for those funds to be put to use elsewhere was evident.
"So that's why purchased the virtual reality goggles and the five computers. So I think in light of the pandemic and how homelessness is increasing, we're really onto something about teaching nursing, how to take care of the homeless."
The Dickinson Nursing Simulation Center, housed in the SON's Beyster Institute for Nursing Research, Advanced Practice, and Simulation building also purchased a new mannequin for hands-on teaching. Currently, students are permitted by law to utilize the lab, but there are restrictions, such as fewer students in the lab at one time, all must wear masks, and all must remain six feet from one another. Still, this arrangement allows students to work with the new mannequin that Dr. Marsh calls amazing because lab staff have the ability to change its features and skin tone.
"You take off the face of the mannequin. And you can put a whole new face on it. And it has a lower bridge nose, so it looks like a real African American patient. You can change the hair; the wigs, the color of the arms and legs. And so my idea is I want students to go into the lab and think nothing of it that yes, there are white mannequins and yes, there are brown mannequins because this is what life is like. Our mission at the School of Nursing is to educate providers who look like the people we serve."
MEPN students recently utilized the new virtual reality equipment and new mannequin. The equipment will be available to all School of Nursing students in spring 2021.