A San Diego Business Journal Business Woman of the Year: Priya Kannan, PhD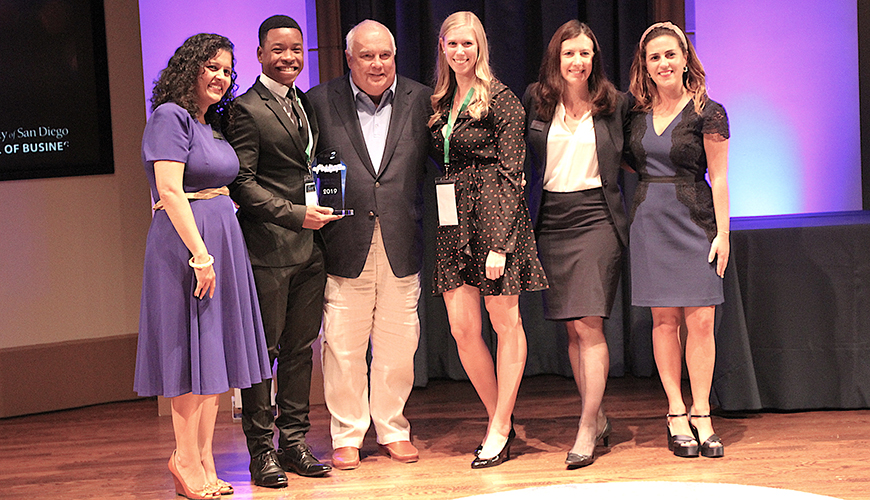 When Priya Kannan-Narasimhan virtually accepted the award as a 2020 San Diego Business Journal Business Woman of the Year (large company category) last week, she thanked her parents, her family, colleagues, friends, mentors with heartfelt gratitude.
Their support for Kannan, the department chair of innovation and entrepreneurship, founding director of the Entrepreneurship and Innovation Catalyzer at the University of San Diego School of Business, and professor of business management is 100 percent real. It is 100 percent necessary, too, because she is 100 percent focused.
Arriving from India 20 years ago, Kannan was determined to break free from a conservative approach to life where thinking about being a businesswoman, a professor or in any other line of work instead of solely being a wife and mother to her children was frowned upon.
"Two decades ago when I came to the United States I could not have imagined that I'd be receiving this prestigious award. Those of you who know me know that I come from a conservative family. Breaking traditional gender role expectations and walking the path from being a traditional wife and mother to being a professor and to be nominated as a finalist for Business Woman of the Year was not easy. I'm thankful to every person who helped me get here today on my journey. I'm accepting this award on behalf of all of us. On behalf of every woman out there who is facing gender stereotypes, not only at home, but also at work, and is still doing her best to be successful no matter what."
In announcing Kannan's award, Brian Lee, bank president for the San Diego region of Wells Fargo and Co., highlighted her desire to equip interested USD students with a pathway to success.
"Priya's vision is to transform every student on USD's campus into an ethical, entrepreneurial leader by providing them with the values, skills and mindset to create and grow socially responsible businesses," Lee said. "Her focus is on creating programs that focus on entrepreneurial mindset. She has fostered a culture that emphasizes viewing entrepreneurial mindset as one of the most effective ways of enabling future business leaders to think outside box and to challenge existing circumstances."
Kannan's role these days is about shaping USD student entrepreneurs for success. It comes from the Catalyzer's involvement in the Fowler Business Concept Challenge, the Torero Venture Labs, the Entrepreneurship Legacy Conference, Venture Vetting (V2) Pitch Competition and supporting roles for USD events such as the Fowler Global Social Innovation Challenge and the newest entry into fray, the Torero Entrepreneurship Challenge (TECh), which will have its inaugural finale on April 8, 2021.
Kannan has been teaching at USD since 2011, first as an assistant professor in USD School of Business and an associate professor since 2016. She has been affiliated faculty for the Joan B. Kroc School of Peace Studies (2017-18) and was a visiting research fellow at the Judge School of Business for the University of Cambridge (2017-18).
To be connected to so many entities, to be a professor of classes for both undergrad and graduate students, Kannan feels her vision, her message of what entrepreneurship is and what it can be is working. The award she's received, she stated, is a win for USD.
"I'm extremely excited, not only for myself, but for us as an institution. One of the big shifts I feel we've accomplished is that people were thinking that entrepreneurship was only meant for people starting new ventures. The biggest change in my philosophy is that entrepreneurship is not just for people who start new businesses. It's for everybody. Everyone who has an entrepreneurial mindset can use it to change their existing living circumstances.
"This is really critical for the underserved population — minorities, immigrants, people who are trying to change their existing life or circumstances. People who are trying to create value. You need the entrepreneurial mindset. My biggest shift has been shifting entrepreneurship to the entrepreneurial mindset and the focus from business to people. I'm so glad this is being recognized because that's who we are."
Kannan describes USD's role in this way: "The people we graduate are ethical entrepreneurial leaders with a Changemaker heart. That's what distinguishes us. Not everyone is going to go start their own business, some will and will be very successful. But it makes me happy because this perspective is getting validated and I think that's what we need in the world."
Winning an award where businesswomen from all over the San Diego region and in all types of businesses were spotlighted brought up the subject of numerous people at USD who she thanks for their assistance in her professional growth.
"We have lots of inspirational female leaders at USD, there is no doubt about it," she said. "And, it's not just in entrepreneurship, but in other innovative arenas too. When I came to USD it was not too hard for me to find role models on campus to follow in terms of who does what, who does it well, and who gets recognized for it."
Mary E. Lyons had been USD's second female president for eight years when Kannan first arrived. Julie Sullivan was vice president and provost and is now president at the University of St. Thomas in Minnesota. Kannan's list of role models and mentors include Johanna Hunsaker, chair and professor of management; Denise Dimon, associate provost of international affairs and business economics professor; Mimi Rothman, professor of management (retired); current vice president and provost Gail Baker; Kroc School Dean Patricia Marquez; associate professor of accounting and former interim dean of the USD School of Business Barbara Lougee; and a heaping helping of female leaders and colleagues in entrepreneurship at USD such as Mysty Rusk (The Brink, Small Business Development Center director), Silvia Mah (Center for Peace and Commerce director); Rachel Christensen (assistant director, The Brink) and Regina Bernal (entrepreneurship manager USD School of Business).
Kannan expressed appreciation, too, for male colleagues, past and present, such as Helder Sebastiao, Mike Lawless, David Pyke, Amit Kakkad, Stephen Conroy and current School of Business Dean, Tim Keane, who will celebrate his first-year anniversary in January.
Keane's belief in entrepreneurship, its place within USD School of Business and Kannan running the Catalyzer is energizing.
Said Kannan, stating what Keane said in his support for entrepreneurship. "We need to do this, we need to do this well and here's a new department (innovation and entrepreneurship). Go fix it and make it even better."
She's working on it and is thriving at a time when the COVID-19 pandemic has turned many things upside down for many people. The award gave her a chance to shine awareness and provide a message of solidarity with women struggling the last several months.
"In COVID times, there are more women who are quitting the workforce because they are not able to manage family, work and all of that stuff. That's why for me gender balance and resetting it is really important. COVID is creating a havoc."
It's time to change the mindset, Kannan believes, and she is here to lead the way.
— Ryan T. Blystone