Engineering Virtual Senior Ceremony Celebrates 2020-21 Grads, Shileys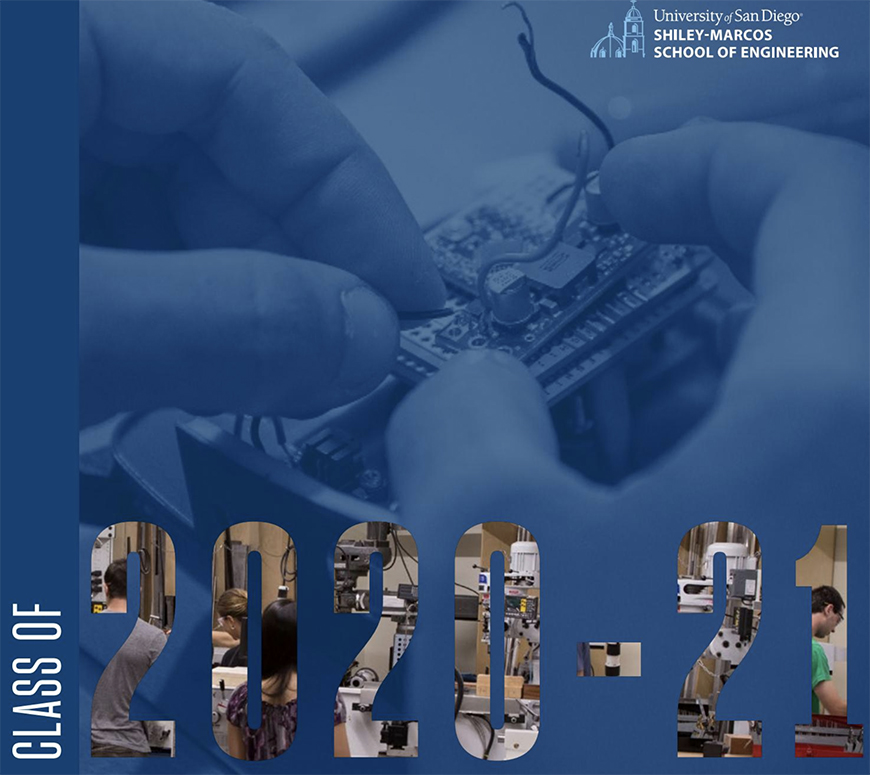 Five hundred people — consisting of engineering and computer science students, their families, faculty members, staff, alumni, special guests and friends of the University of San Diego's Shiley-Marcos School of Engineering — gathered virtually to participate and celebrate its 2020-21 seniors and soon-to-be-graduates.
This annual fall tradition, Senior Ceremony, provides Engineering Dean Chell Roberts, PhD, faculty leaders and staff the chance to honor the entire senior class. Given the 4 1/2-year, dual degree curriculum that's in place, this event ensures those graduating mid-year or in the spring are equally recognized.
Thursday's program showcased a Class of 2020-21 photo yearbook that will be sent to each senior. There was also the announcement of a special honor for Darlene Marcos-Shiley and her late husband, Donald Shiley, who invented the Bjork-Shiley heart valve that saved thousands of lives. Donald's Garage, located in the Shiley-Marcos School of Engineering building, is named for him because of his passion for tinkering with various inventions in his own garage. The Shileys, in recognition of their generous commitment of supporting engineering in higher education, were named as honorary members of the Order of the Engineer.
Steven Saxer, the engineering school's mechanical shop manager, also joined the Order of the Engineer.
Along with all graduating engineers, Marcos-Shiley and Saxer will receive a stainless-steel ring, a symbol worn on the pinkie finger of an engineer's dominant working hand. On Thursday, seniors took the oath, the Obligation of an Engineer, as part of the ceremony. Furthermore, Computer Science graduates also took an oath, the Pledge of the Computing Professional.
Prior to the verbal oath delivery, the audience heard from mechanical engineering alumna Veronica Mora '15, who now serves as NPI Engineering Manager at Formula Plastics, Inc. She is also member of the engineering school's alumni council. Mora celebrated the 2020-21 class and provided some important advice.
"Enjoy this moment," she said. "There are few moments in your life that you'll have a profound experience that you'll remember how you felt that day. You will remember it to the last detail."
Graduation, for Mora, was "an overwhelming sense of relief. (School) was stressful, it was tough and a lot of work, so absorb what you are feeling right now. Take it with you."
She appreciated classes with engineering faculty members, especially those who taught her thermal dynamics, a professor who had a great sense of humor, and another who was kind and supportive to all students.
"Thanks to USD for creating that experience, my college years," Mora said. "I really hope you graduates can take that same type of feeling, that same experience, and same memories about USD when you think about this phase, your college years. I hope you are all as proud as I am to call it my alma mater."
As for advice, Mora, understanding the unique challenges for those graduating and entering the workforce during a pandemic, she offered an alternative thought: "Sadly, this is unprecedented, but the amazing part is that you will be able to pull through this in a very special way, and be able to say what you did to overcome it."
Mora spoke about moving from USD to the workforce in a product designer role. "I was in it for about seven years until recently. I was given all the trust and responsibility and all the opportunities that people hope for in that type of role."
But something still wasn't right. Feelings of being underappreciated, unhappy and unmotivated caused her to shift. "I decided to look internally to change my external circumstance that I had really created on my own."
Reading a book on how one's ego can be a root cause, she expressed ways to think more positively. "As you prep for a shift and fate in your life — and it's a big shift right now — be open to change and different opportunities. Be flexible. Don't take something if you don't want it, but don't reject it because it might be labeled as a failure. That's your ego speaking. Go ahead and take these opportunities."
Oaths were administered by Computer Science Department Chair and Professor John Glick, PhD, and Electrical Engineering Professor Kathleen Kramer, PhD. Associate Dean and Industrial and Systems Engineering Professor Rick Olson, PhD, read the names of all engineering and computer science seniors.
Given the COVID-19 pandemic and everything that's happened in 2020, department chairs in each of the disciplines — Glick for Computer Science, Electrical Engineering's Mikaya Lumori, PhD, Industrial and Systems Engineering's Truc Ngo, PhD, Integrated Engineering's Susan Lord, PhD, and Mechanical Engineering's Frank Jacobitz, PhD — extended hearty sentimental congratulatory messages to their students.
"On behalf of the Integrated Engineering faculty, Congratulations, Felicidades, and Gõngxǐ, Gõngxǐ," said Lord, whose engineering discipline is still in its infancy. "Congratulations to all of our graduates, thanks for being pioneers with us on this integrated engineering journey. We're grateful that you came to us from California, Arizona, Texas, Mexico and China. We're so proud of you making it through all of this and the broad experiences from football to starting our integrated engineering society to embedded software to sustainability to helping make face shield during the COVID-19 pandemic. Again, congratulations!"
— Ryan T. Blystone
Here are the oaths read and recited by all seniors at the ceremony:
Oath: Pledge of the Computing Professional
I am a Computing Professional.
My work as a Computing Professional affects people's lives, both now and into the future.
As a result, I bear moral and ethical responsibilities to society.
As a Computing Professional, I pledge to practice my profession with the highest level of integrity and competence.
I shall always use my skills for the public good.
I shall be honest about my limitations, continuously seeking to improve my skills through lifelong learning.
I shall engage only in honorable and upstanding endeavors.
By my actions, I pledge to honor my chosen profession.
Oath: Obligation of an Engineer
I am an Engineer. In my profession I take deep pride. To it I owe solemn obligations.
As an engineer, I pledge to practice integrity and fair dealing, tolerance and respect; and to uphold devotion to the standards and the dignity of my profession, conscious always that my skill carries with it the obligation to serve humanity by making the best use of the earth's precious wealth.
As an engineer, I shall participate in none but honest enterprises.
When needed, my skill and knowledge shall be given without reservation for the public good.
In the performance of duty and in fidelity to my profession, I shall give my utmost.