Dr. Edwards Announced as New Editor of Journal of Systemic Therapy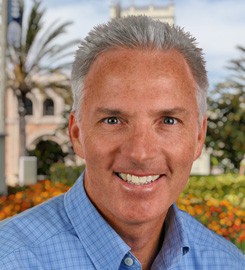 Dr. Todd Edwards, Professor in the Counseling & Marital and Family Therapy Department was recently named the International Journal of Systemic Therapy (IJST) Editor. The IJST offers empirical studies, program reports, clinical practice strategies, and theoretical discussions from systemic researchers, educators, and practitioners across the world.
In addition to his work at USD, he is a Voluntary Assistant Clinical Professor in the Department of Family Medicine and Public Health at the University of California, San Diego (UCSD) and a Visiting Professor at Nova University in Lisbon, Portugal. His primary clinical and research interests are medical family therapy, medical family therapy training, and friendships of married men. Dr. Edwards works with individuals, couples, and families in private practice and within the Division of Family Medicine at UCSD. He looks forward to broadening the international scope of the journal and presenting innovative content for a diverse, multidisciplinary audience. Dr. Edwards and his editorial team will be increasing IJST's presence on twitter. Please follow the journal @ijst.