Social Justice, Environmental Projects Highlight Engineering Expo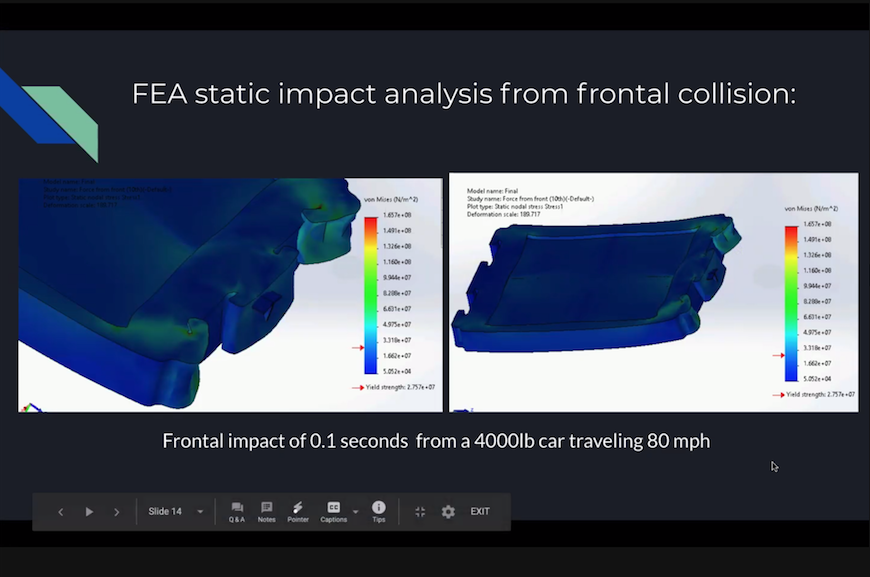 Most everyone knows how engineering and computer science students use technology and innovation to create new products and services. But today's students are using these tools to expand social justice and inclusion.
At Friday's Shiley-Marcos School of Engineering Expo, for example, students presented plans for How Bout Now (HBN), a project for a communal digital space.
"Today the most popular forms of social media fail to connect and empower the backgrounds of marginalized members of society," said integrated engineering major Arrion Archie. "Instead, the current social media experience aids in spreading mass information, inciteful hate speech, manipulative content and the suppression of users' content. HBN will be the only platform to engage neglected groups and facilitate healthy connections as a means to speak out against violence and hatred."
The virtual Expo featured preliminary work conducted on nearly 30 capstone design projects in poster format. Projects were divided into five categories: entrepreneurship, industry-sponsored; competition and community and research; computer science, and industrial and systems engineering. Hundreds of viewers including friends, family members and supporters of the Shiley-Marcos School of Enginering, watched the event.
The Ocean Discovery Institute project "uses ocean sciences and engineering to empower youths in underserved urban communities to transform their lives, their community and our world as science and conservation leaders," said mechanical engineering major Michael Casinelli. "We plan on ultimately creating a submersible remotely operated vehicle kit with a detailed instruction manual and an outline for a week-long curriculum that the Ocean Discovery Institute will utilize in order to teach students in grades 6-8 STEM and coding topics for their future summer camps."
One challenge for students continues to be working remotely during the pandemic. "Being remote has put a hold on the prototyping and testing stages but our group plans on meeting over Intersession a handful of times to partake in socially distanced testing so we can continue our amazing progress and complete the project," Casinelli added.
"One of the main lessons I have learned in this project so far is the importance of teamwork and collaboration, which has been a major adjustment due to the remote environment we have been in."
Combining environmentalism with entrepreneurism, the Discrete Solar project "is an all in one solar energy system for the nomadic lifestyle" with few competitors in the market, explained Sabrina Smith. It could be used by vans, boats, even bicycles and will move in response to the sun in order to reach its peak solar efficiency at all times.
Other projects at the Expo included Helicoid to develop a carbon fiber battery housing unit integrated into an electrical vehicle chassis with Carvajal Motors to reduce the weight by 90% compared to traditional battery housings, and Glaukos to develop an injector/inserter to test medical devices and drug delivery systems in a more efficient and cost-saving manner.
"We had a great time at the Expo," said Professor of Integrated Engineering Gordon Hoople. "The students did an excellent job presenting their progress so far. I've heard from several faculty that they really enjoyed the event, especially a chance to see their students smiling faces outside of their normal classes. Guests from the community commented on how much progress the teams have made in spite of the limitations posed by COVID-19. We look forward to seeing what the teams will accomplish in the spring."
-- Liz Harman