Psych-Mental Health NP Program Receives $1.6 Million State Grant
Funds to support student placements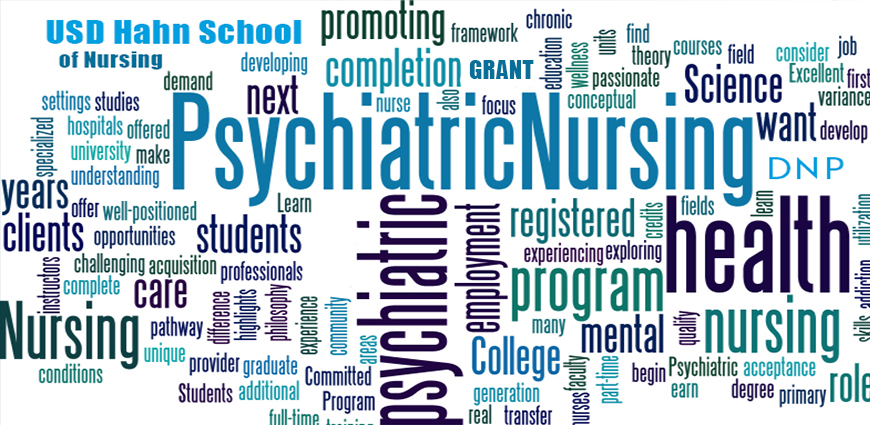 The DNP Psychiatric-Mental Health Nurse Practitioner program (PMHNP) at USD's Hahn School of Nursing and Health Science has 1.6 million new reasons to celebrate: the program was recently awarded a $1.6 million grant from the California Office of Statewide Health Planning and Development. The OSHPD awarded $17 million in grant funds to seven programs around the state to "help further build the pipeline of public mental health professionals in California."
Dr. Michael Terry, USD's PMHNP Program Coordinator and Clinical Professor, applied for the grant to help fund placements for PMHNP students. This year USDSON admitted 15 BSN-DNP students in the Psych Mental Health NP program, which is the largest number of students admitted to the program at one time. They join 10 students who are in the midst of their studies in the program.
Dr. Terry said the OSHPD grant funds will go toward funding student placements at Family Health Centers San Diego.
"We're investing in a partnership that has paid off very well for both organizations in a lot of ways," Dr. Terry said. "And we're increasing our student placement by 40 percent as a result of this."
During the COVID-19 pandemic, several PMHNP students were able to complete their clinical competencies via telehealth sessions with preceptors and patients. Dr. Terry and the students are looking forward to getting back into the clinical setting and expect the first group of students to begin their clinical rotation at Family Health Centers San Diego in summer 2021.
Also, USD SON Alumna Nancy Romig, DNSc '97, and a colleague were awarded $1.3 million from the OSHPD grant for the PMHNP program at California State University, San Marcos. Dr. Romig is an Associate Professor and PMHNP Co-Coordinator for CSUSM's School of Nursing.
The BSN-DNP Psych Mental Health Nurse Practitioner program at USD Hahn School of Nursing and Health Science is a comprehensive, 83-unit program that provides a foundation in the theoretical underpinnings of advanced nursing practice with pediatrics, adolescents, adults, older adults, and their families with psychiatric-mental health conditions. If you would like more information, click here.