USD School of Law Professor-in-Residence Robert Muth Recently Promoted to Professor of Law
Professor-in-Residence Robert Muth Recently Promoted to Professor of Law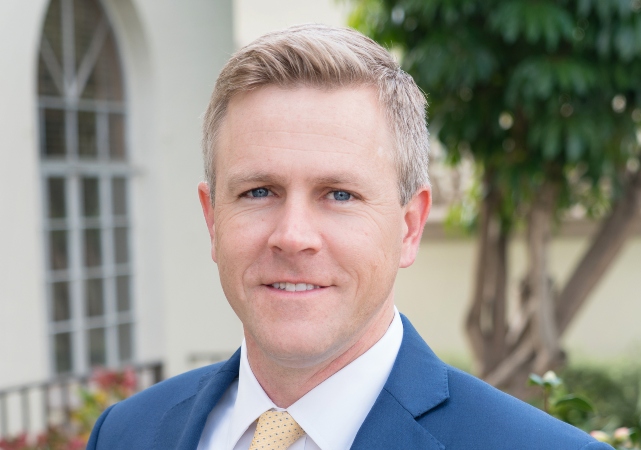 San Diego (October 19, 2020) – Former USD School of Law Professor in Residence Robert Muth was recently promoted to Professor of Law, in addition to serving in his current roles as academic director of the legal clinics and supervising attorney of the Veterans Legal Clinic, which he founded. In addition to teaching in the areas of veterans law and legal ethics, Professor Muth's responsibilities ensure that the law school's award-winning clinics provide an ideal opportunity for students to learn to practice law while providing invaluable pro bono legal representation to people in need. At the Veterans Legal Clinic, Professor Muth and upper-level law students represent low-income, indigent and homeless vets, focusing on cases where for-profit education companies have tried to defraud veterans of GI Bill benefits, VA claim denials, and service recharacterizations appeals.
Prior to joining USD, Professor Muth served as a judge advocate in the United States Marine Corps, where he received multiple awards for superior service. He was named the Defense Counsel of the Year for the Navy-Marine Corps Trial Judiciary, Western Judicial Circuit in 2008-09.
Professor Muth is admitted to the bar in California and Illinois and is a Department of Veterans Affairs accredited attorney. He is a Fellow of the Truman National Security Project and is the Chairman of the Military and Veterans Affairs Committee of the California Lawyers Association (formerly the California State Bar).
Professor Muth has been honored by the Law Library Justice Foundation with its prestigious Bernard E. Witkin Award for Excellence in Legal Education in 2016 and was named the 2017-18 San Diego County Veteran of the Year for his work serving the veterans community. He has testified before Congress and the California State Assembly and State Senate on issues related to veterans education and consumer protection. Professor Muth makes frequent media appearances on television, radio and print, including HBO, CNBC, PBS, NPR, and many others to discuss a variety of topics related to veterans' law, military justice, higher education, legal ethics, and consumer protection.
Professor Muth received his B.A. from Northwestern University in 2002 and his J.D. from Duke University School of Law in 2005.
About Professor of Law Robert Muth
Professor Robert Muth teaches in the areas of veterans law and legal ethics. Muth also serves as the academic director of the award-winning legal clinics program at USD, where he is responsible for academic oversight and strategic planning for USD's eleven client-services legal clinics. Additionally, Muth is the founder and managing attorney of the USD Veterans Legal Clinic, which provides pro bono legal services to low-income, indigent and homeless veterans and their families.
About the University of San Diego School of Law
Each year, USD educates approximately 800 Juris Doctor and graduate law students from throughout the United States and around the world. The law school is best known for its offerings in the areas of business and corporate law, constitutional law, intellectual property, international and comparative law, public interest law and taxation.
USD School of Law is one of the 84 law schools elected to the Order of the Coif, a national honor society for law school graduates. The law school's faculty is a strong group of outstanding scholars and teachers with national and international reputations and currently ranks 36th nationally among U.S. law faculties in scholarly impact and 22nd nationally in past-year faculty downloads on the Social Sciences Research
Network (SSRN). The school is accredited by the American Bar Association and is a member of the Association of American Law Schools. Founded in 1954, the law school is part of the University of San Diego, a private, independent, Roman Catholic university chartered in 1949.