Demolishing Engineering Stereotypes and the "Pobrecito" Syndrome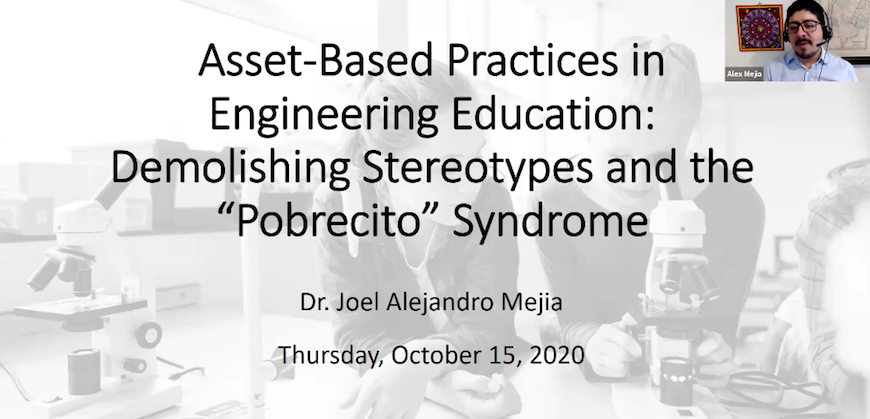 As a high school student, Assistant Professor of Integrated Engineering Alex Mejia remembers telling a guidance counselor he wanted to study engineering, only to be told he might consider vocational school instead.
Not only did he go on to college, he was awarded a Gates Millennium Scholarship at the University of Texas, El Paso.
Years later, he continues to wonder why Latinos and other students of color are underrepresented in engineering. And through his research, he and others have found something that has come to be called the pobrecito syndrome, a form of misplaced sympathy and low expectations for students of color and a belief that they have particular "needs" or "deficits" that should be "fixed" in order for them to be successful in engineering and other STEM (Science, Technology, Engineering and Mathematics) fields.
At a meeting on Oct. 15 of the Engineering Exchange for Social Justice (ExSJ) in the Shiley-Marcos School of Engineering, Mejia talked about his research to end the syndrome and promote greater success among these students.
One answer is recognizing that the history and successes of Latinos and other cultures are not recognized in the curriculum or text books. For example, the water collection systems in Machu Picchu in Peru existed before the Spaniards came to the Americas. Students need to see this type of knowledge "reflected in the classroom," he said.
Mejia, who has been awarded the CAREER grant from the National Science Foundation to promote Latinx success in engineering, has been working on a project with an under-resourced San Diego middle school.
"We found out that it is possible to elicit funds of knowledge and that the teachers were really good at doing this," he said. "They shared experiences with the students" to create trust so that they were not detached or distanced from the students' cultural experiences and communities.
Many of the students, for example, were using the Metropolitan Transit System to attend school, so teachers integrated questions of time and money in choosing the routes to take into the mathematics curriculum.
Through projects like this, "students are able to conceptualize engineering in their own terms and say 'I do belong in engineering,'" he said.
At the meeting, the ExSJ also presented awards for those students and faculty who have become leaders in creating systemic change.
Student scholars included Arrion Archie, who is working on the HBN (How Bout Now) app to empower Black and marginalized voices; Devin Devlin, who was recognized as the USD chapter president of the National Society of Black Engineers; Jacqueline Puga and Adaly Solis, the current and past presidents, respectively, of the USD chapter of the Society of Hispanic Professional Engineers and Rachel Valdez who is promoting STEM education for students of color.
Dr. Perla Myers was recognized as a faculty scholar for her work in the STEAM Summer Academy serving diverse communities. Dr. Truc Ngo was recognized as a faculty scholar for a plastics recycling and repurposing and other projects to improve the health and lives of people in developing countries.
— Liz Harman