Journal Publishes Article by Dr. Leonora Simonovis-Brown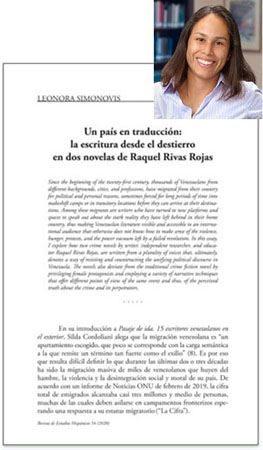 Dr. Leonora Simonovis-Brown's article "Un país en traducción: la escritura desde el destierro en dos novelas de Raquel Rivas Rojas" appeared in internationally recognized, peer reviewed journal Revista de Estudios Hispánicos (54, No. 2, June 2020: 395-408).
She explores the violence and power vacuum in Venezuela as portrayed in Raquel Rivas Rojas's crime novels Muerte en el Guaire and El accidente. Both narratives counteract the homogenous political discourse in the country by representing a diversity of voices. At the same time, they challenge the traditional crime novel structure by privileging female protagonists and characters and offering different versions of the truth– the crimes– and how they are perceived according to who speaks and their social location.
The digital version of the journal can be read online is published by Project Muse. Print and digital subscriptions are available through Washington University at St. Louis.