Professor Kannan Makes Online Learning A Memorable Experience for MBA Students at USD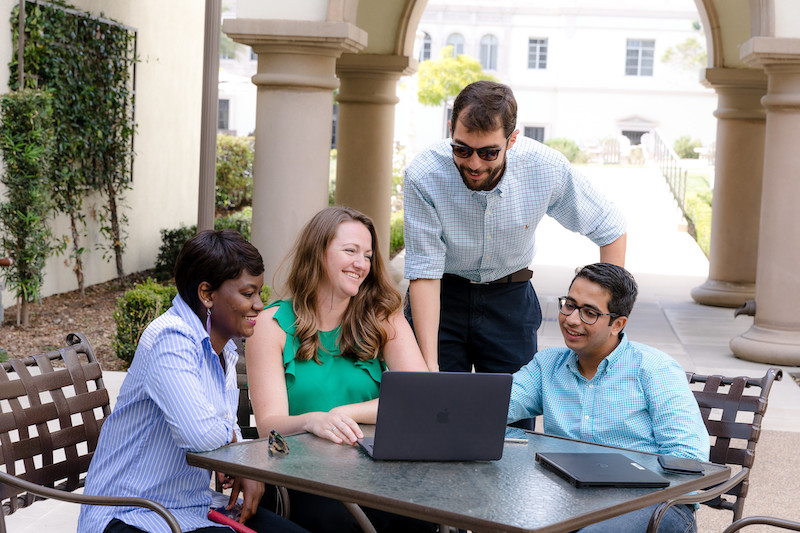 begin quote

My class with Dr. Priya was a thrilling and intellectually stimulating experience thanks to her ability to leverage the virtual platform, adapt the coursework and not to mention her palpable enthusiasm for the topic of strategy.
Over the summer, professors at the University of San Diego School of Business prepared for two teaching scenarios — a hybrid learning model and a remote learning model. So when the Fall 2020 semester began with remote instruction only, business faculty were ready to deliver their curriculum in a way that would have the same impact online as it would in the classroom.
One class that found new strengths in the remote model is Strategy for the Entrepreneurial Manager (GSBA 500), an introductory course for new MBA students taught by Chair of the Innovation & Entrepreneurship Department Professor Rangapriya (Priya) Kannan. At just four days long, it's a crash course on business strategy that embraces an entrepreneurial mindset to keep a company ahead of its competitors.
Making an online class memorable
"This class is always challenging because it's the first class that transitions people from working professionals to professional MBA students," says Professor Kannan. "And this class requires you to sit, listen, and learn an entire textbook for eight hours a day, Tuesday through Thursday with a final presentation on Friday. That is extremely intense. But this semester was especially challenging because on top of that, our MBA students had to do all of this remotely. I had to ask myself, 'how do I make this fun and engaging for them?'"
In normal circumstances, Professor Kannan's class challenges students with learning one entire textbook, completing two case studies, writing two reflection papers, conducting a simulation and presenting a final group project — all in four days. In the classroom, students would attend class in the morning, take a lunch break, and then return for an afternoon session. It was not lost on Professor Kannan that students wouldn't have the stamina to attend eight hours of lecture via computer. So she pivoted.
First, Professor Kannan pre-recorded all of her lectures and posted them for students to watch in the afternoon portion of the class, which allowed her to dedicate the morning session of class to discussion-based lectures. "To be honest, even when we go back to teaching in an in-person format, I'm still going to keep all these pre-recorded lectures," she says. "I think that giving the students the ability to review those lectures at their own pace and come to class ready to participate has enhanced the quality of class discussion significantly."
Students reorganize company in online simulation
For one of the class sessions, Professor Kannan had the students run an online simulation where they have to make decisions on how to reorganize a company. When she has conducted the simulation in a classroom, she walks around to check in on student teams and help troubleshoot any issues. Adapting the activity to an online format was more successful than she anticipated.
"It actually worked better online than it did in class," says Professor Kannan. "When students encountered problems, they would private message me on Zoom. And I was able to go on the back end of the simulation to see the issue and fix it right away."
Guest speaker and current affairs topics offer real-time industry insights
Second, she invited a guest speaker to the class. And not just any guest speaker. Peter Schwartz is a senior associate consultant at the consulting firm, Management Systems, who shared industry insights he's learned from his experience consulting for hundreds of companies including Starbucks, Power Bar and other Fortune 500 companies. Professor Kannan is also a senior associate consultant at the firm whose executive team, including UCLA Professor Eric Flamholtz and Dr. Yvonne Randle, wrote the textbook she teaches in class, Growing Pains: Building Sustainably Successful Organizations.
And third, she adjusted the final presentation to reflect the current times. Instead of students comparing the corporate strategies of two competitor companies, students were tasked with assessing a company's strategy pre-pandemic and post-pandemic to see how they pivoted.
One team looked into Eastman Kodak, known for their products used in photography. In response to the pandemic, they've shifted into pharmaceuticals and are now manufacturing pills. The MBA student team research how such a company could so swiftly go from making cameras to making pills. Other student teams selected Slack, Zoom and TripAdvisor for their final project.
"Inviting" Zoom's CEO to the final presentation
With a little incentive from the professor, students got especially creative with their final presentations. One team played an online Kahoot game to add an interactive touch to their analysis. The Zoom team surprised the class with a guest appearance from Zoom's CEO — they cleverly used Zoom's picture-in-picture layout to make it look as though the CEO was in attendance.
The project gave students an insightful look at what companies are doing right now to pivot their strategies to endure the pandemic. It also gave them an opportunity to further develop their virtual presentation skills while challenging them to engage their audience, rather than just talking at them.
A dedicated professor makes all the difference
So what was the experience like for students? If you ask MBA student, Emily Liu, Professor Kannan delivered an unforgettable course that set the newest cohort of MBA students on a path towards success throughout their academic journey at the USD School of Business.
"My class with Dr. Priya was a thrilling and intellectually stimulating experience," says Liu. "I learned a lot from the lively classroom discussions put forth by Dr. Priya's insightful questions. The class was highly effective thanks to her ability to leverage the virtual platform, adapt the coursework according to our needs (the true embodiment of her entrepreneurial spirit), and not to mention her palpable enthusiasm for the topic of strategy and passion for our learning. Just being in her classroom was a great learning experience."
— Gabrielle Horta