USD School of Law Professor Dov Fox's Latest Book DONOR 9623 Released on Audible.com
Professor Dov Fox's Latest Book DONOR 9623 Released on Audible.com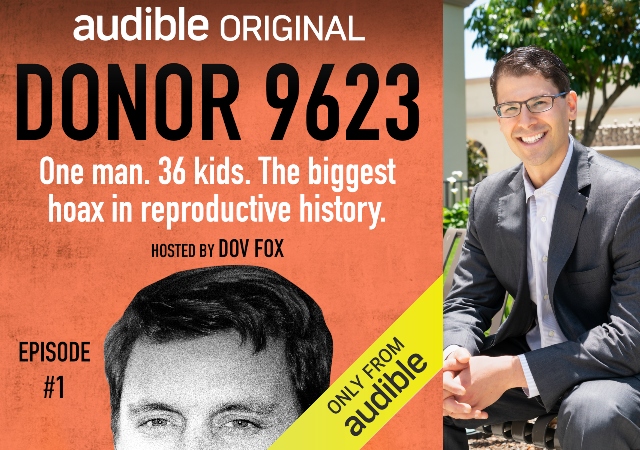 San Diego (August 31, 2020) –University of San Diego (USD) School of Law Herzog Endowed Scholar, Professor of Law and Director of the Center for Health Law Policy and Bioethics Dov Fox's most recent book DONOR 9623: One man. 36 kids. The biggest hoax in reproductive history was published today on Audible.com. The book is an Audible Original and examines the competing agendas and complex forces in the fertility industry through an eight-episode series.
Professor Fox's book delves into the largest known reproductive hoax of our time - the story of Donor 9623. At one time, numerous parents hoping to start families turned to the fertility industry and selected one extraordinary young man to be the biological father of their children. This donor's distinguished profile described him as a gifted athlete and music prodigy with a genius IQ, movie star looks, and perfect health – but none of this was true. DONOR 9623 discusses the dark side of what happens when would-be parents set out to have children with help from the fertility industry. The book examines the law of policing the industry, mental illness and a billion-dollar business that creates hundreds of thousands of babies every year.
Click here to download Professor Fox's audiobook.
About Professor of Law Dov Fox
Professor Dov Fox teaches and writes in the areas of health law and bioethics, the regulation of technology and criminal law. He is the director for the Center of Health Law Policy and Bioethics and the Herzog Endowed Scholar. Fox serves on the advisory boards of the Appellate Defenders, American Constitution Society, and Illumina Genomics. Fox also works on National Institutes of Health grants that focus on topics of genomic privacy, translational medicine, and biomedical research ethics.
About the University of San Diego School of Law
Each year, USD educates approximately 800 Juris Doctor and graduate law students from throughout the United States and around the world. The law school is best known for its offerings in the areas of business and corporate law, constitutional law, intellectual property, international and comparative law, public interest law and taxation.
USD School of Law is one of the 84 law schools elected to the Order of the Coif, a national honor society for law school graduates. The law school's faculty is a strong group of outstanding scholars and teachers with national and international reputations and currently ranks 36th nationally among U.S. law faculties in scholarly impact and 22nd nationally in past-year faculty downloads on the Social Sciences Research
Network (SSRN). The school is accredited by the American Bar Association and is a member of the Association of American Law Schools. Founded in 1954, the law school is part of the University of San Diego, a private, independent, Roman Catholic university chartered in 1949.