NSF Grant to Support Student Research in Bioinformatics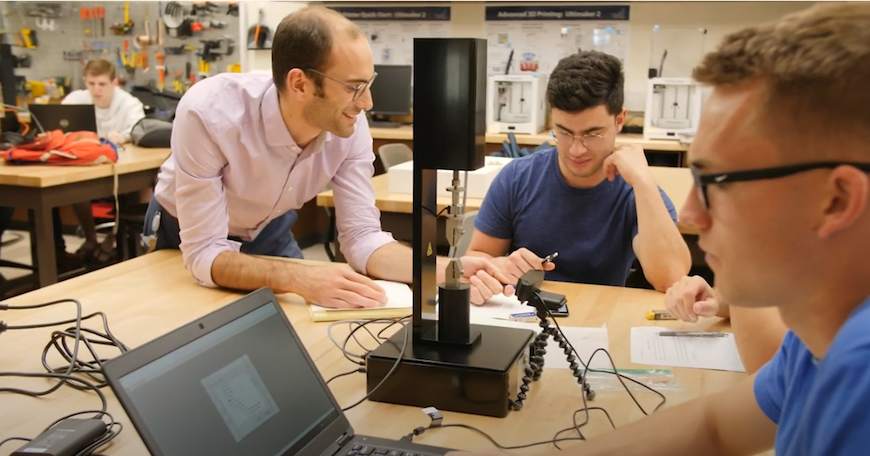 Students from the USD Shiley-Marcos School of Engineering will have the chance to do cutting-edge research in bioinformatics, an interdisciplinary field using software engineering and computer science principles to analyze large-scale biological data, through a $299,200 National Science Foundation grant.
Over the past two decades, bioinformatics methods have aided in the development of diagnostics, therapies and predictive models of many diseases, including cancer, diabetes and heart disease, said Assistant Professor of Integrated Engineering Mark Chapman who was awarded the grant.
He hopes to recruit students from groups underrepresented in engineering and computer science to contribute to projects centered around cancer, aneurysms, skeletal muscle adaptation to exercise, and the organization of chromosomes in human cells.
"One of the projects, for example, that the student researchers will be involved in attempts to identify 'cancer signatures' in breast cancer tissue that will be important for developing personalized therapies for patients," said Chapman. "Another will attempt to identify biomarkers to help with the diagnosis and treatment of abdominal aneurysms."
Three sets of six students will travel to Stockholm, Sweden for 10 weeks at the prestigious SciLifeLab to undertake the research. "We hope to provide an exciting summer research opportunity for students that helps create a more diverse cohort of researchers that become globally engaged," he said.
Chapman said he was inspired to earn a PhD, apply and win an NSF graduate research fellowship and even met his husband through an undergraduate NSF research program he participated in at the University of California, San Diego. "I know how much a summer research program can change one's life, so I hope to have a similar impact with this program," he said.
In particular, he hopes students will be motivated to pursue a graduate degree related to bioinformatics and also seek out international opportunities throughout their careers as a result of this research.
"Cross disciplines like bioinformatics are key to the future of healthcare and technology and we're thrilled that we will be able to expand our research in this area at USD because of Professor Chapman's impressive grant," said Shiley-Marcos School of Engineering Dean Chell Roberts.