Statement of Solidarity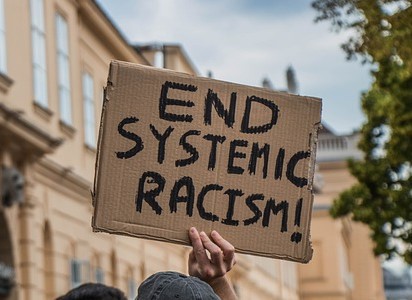 Our society is traumatized by the systemic, institutional racism that pervades the structures that govern our citizenry and shape cultural life in our nation. We stand in solidarity with our Black neighbors, our Black colleagues, our Black students, and Black Americans everywhere. We also recognize, as Angela Davis has taught us, that in a racist society it is not enough to not be racist. We must be actively antiracist.
As educators, because we have the power to activate widespread change, we have the duty to do so. With our students, with our peers, with ourselves. It starts by rejecting silence and complacency. It starts by learning more than we already know and leaning in to the discomfort it may cause us. It starts by listening to Black Americans' voices. It starts by taking antiracist action, in both small and large ways. Dismantling the systems that perpetuate racism and injustice can seem endless and unavailing. But as Martin Luther King Jr. said "we have no alternative but to keep moving with determination."
At the Center for Educational Excellence, we are making a commitment to listen, learn, and do better. This summer as the CEE re-evaluates our programming we will be holding ourselves accountable to the ways that we have fallen short of our responsibility to advance racial justice on our campus; to provide support for USD's Black faculty; and to foster a culture of teaching and learning that takes Black scholars, Black achievements, and Black students seriously.
Immediately, we are compiling readings, films, podcasts and talks to share with you, focusing on the political and social history that bears down on us, shaping the current moment of racial injustice and violence we find ourselves in today. We welcome your ideas on how to design effective events, discussions, and other programs so that the USD community can both learn and act on racial equity. You can find this list here on our Racial Justice Trello Board.
Ahmaud Arbery. Breonna Taylor. Tony McDade. George Floyd. Natasha McKenna. Trayvon Martin. Tamir Rice. Nina Pop. Michael Brown. Eric Garner. Philando Castile. Freddie Gray. Tamla Horsford. Ryan Twyman. Aiyana Stanley-Jones. Rekia Boyd. Black lives matter.