The Impact of Waterfront Location on Residential Home Values Considering Flood Risks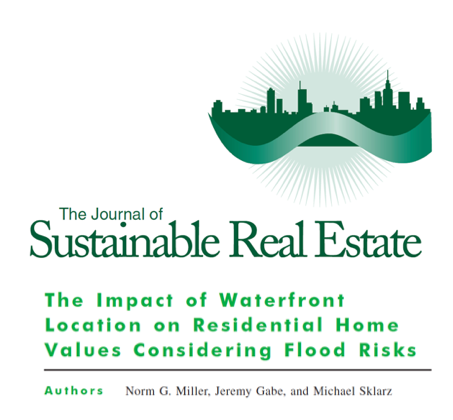 The Journal of Sustainable Real Estate published a paper authored by Norman G. Miller, PhD, Hahn Chair of Real Estate Finance at the University of San Diego School of Business, Jeremy Gabe, PhD, assistant professor of real estate at the USD School of Business, and Michael Sklarz, PhD, chairman and CEO of Collateral Analytics.
In this paper, Miller, Gabe and Sklarz confirm existing findings of significant premiums for waterfront proximity, more so for oceans, bays, and large lakes than rivers. The authors expand their research on housing price trends immediately before and after major storms in directly affected markets and in areas vulnerable to sea level rise and flood risk. They find that single-family home prices rebound quickly after floods and future sea level rise or flood risks seem to be ignored by the next wave of buyers.
Using elevation as a proxy for flood risks associated with sea level rise, they find inconsistent evidence that the market perceives flood risk and discounts property prices accordingly. The absence of a permanent market reaction may change over time as the market is exposed to increases in insurance premiums or other direct pricing of the risks. The authors' conclusions suggest either a short-term horizon for buyers of coastal properties at risk or a moral hazard problem whereby residential owners are dependent upon and subsidized by other taxpayers.