Stath Karras is Honored with a Lifetime Achievement Award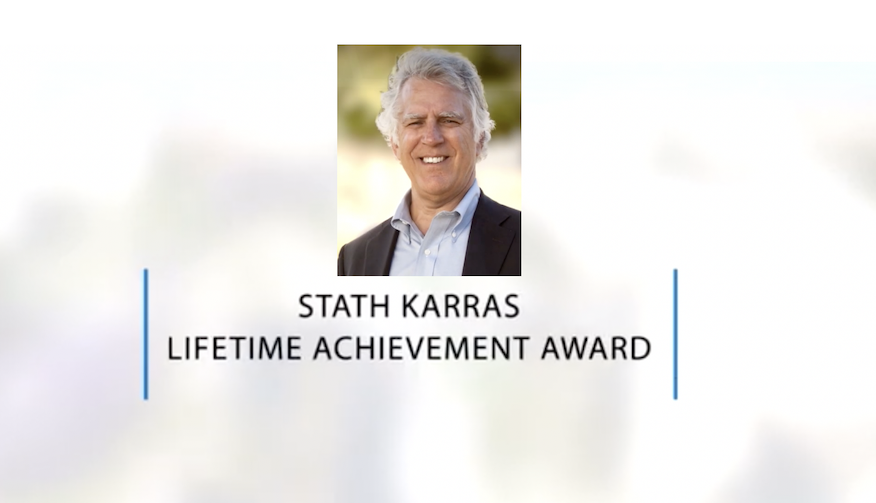 On Feb. 26, the San Diego Business Journal hosted its annual Commercial Real Estate Awards 2020 at the Bali Hai on Shelter Island. At the event, Stath Karras, executive director of the Burnham-Moores Center for Real Estate (BMC), was honored with a Lifetime Achievement Award for his dedication to and impact on the commercial real estate industry.
"This award represents a compilation of many independent journeys that together were recognized as being meaningful to our community," says Karras. "I am most pleased to have had the opportunity to work with so many great people who not only shared the journey, but shared the mission and passion. I will forever value those relationships."
More than 250 real estate professionals attended the awards ceremony which recognizes brokers, developers, general contractors, subcontractors and architects and showcases the biggest, best and most notable commercial real estate projects and sales throughout San Diego. More than 33 University of San Diego administrators, faculty, staff and members of the Burnham-Moores Center for Real Estate's policy advisory board and BMC real estate committee joined Stath at the event to celebrate his achievements.
"We are very excited to learn that Stath received this honor, not only for his accomplishments associated with running the Burnham-Moores Center so successfully over the last few years, but also for his engagement within the real estate community," says Ian Gill, managing partner of Silvergate Development and an emeritus member of the BMC policy advisory board. "His efforts have resulted in the continued growth of the USD real estate program and its nationally recognized rankings."
Stath has been instrumental in the success of a number of real estate related businesses during his long career in the private sector. Prior to his current role as executive director Stath participated and led regionally significant organizations, including Connect, EDC and LEAD, along with other important philanthropic endeavors.
"It is clear that all of Stath's prior career experiences have prepared him perfectly for the role he currently serves at the BMC," says Gill. "Many past and future generations of students have and will continue to benefit from his mentorship."
Read the San Diego Business Journal story, published on March 16, 2020.