USD Professor Awarded $579,000 NSF CAREER Award to Promote Latino Success in Engineering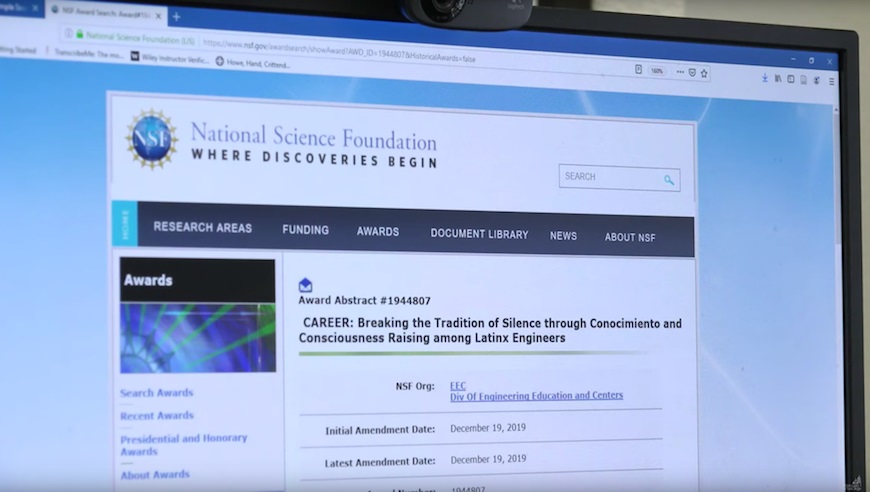 USD Assistant Professor of Integrated Engineering Alex Mejia has received the prestigious CAREER grant from the National Science Foundation (NSF) to promote Latino success in engineering.

While growing numbers of Latinos are attending college their participation and success in enginnering has lagged. According to the National Science Board, the percentage of engineering degrees awarded to Latinos has increased from 7.3 percent to 12.8 percent but the number of Latinos employed in science and engineering occupations accounts for only 6 percent. Latinos as a group continue to face many barriers that lead to underrepresentation in engineering fields.
"We want to change the perception that Latino and Latina students have deficits and start talking about the assets they bring to engineering," said Mejia of USD's Shiley-Marcos School of Engineering.
The Faculty Early Career Development (CAREER) Program is the NSF's most prestigious award in support of faculty who have the potential to serve as academic role models in research and education and lead advances in the mission of their department and organization.
Latino students "bring a wealth of knowledge" from their cultural and social backgrounds that can benefit engineering and be incorporated into curriculum and the classroom, especially as engineering expands to solving not just technical but societal problems, Mejia said. "The more we can draw from multiple sources and cultures, the better prepared engineering will be to solve the problems of the future."
Under the study, "Breaking the Tradition of Silence through Conocimiento and Consciousness Raising among Latinx Engineers," Mejia will observe Latino students in their institutions, classrooms, homes and communities to see "the disconnects" that are keeping them from completing their degrees and succeeding in the field.
USD and other schools are trying to attract more Latino students, "but if we're not ready to support them it won't matter how many students we bring in," Mejia said.
"We are very pleased to receive this award that reflects the NSF's confidence in Professor Mejia's outstanding abilities and the commitment of USD's Shiley-Marcos School of Engineering to create a diverse workforce committed to improving the lives of all groups in society," said Engineering Dean Chell Roberts.
Mejia, who joined USD's Shiley-Marcos School of Engineering in 2016, holds a bachelor's degree from the University of Texas at El Paso, a master's degree from the University of Utah and a PhD from Utah State University.
Video by Daniel Telles