National Network of Catholic Universities Collaborate to Transform Engineering Education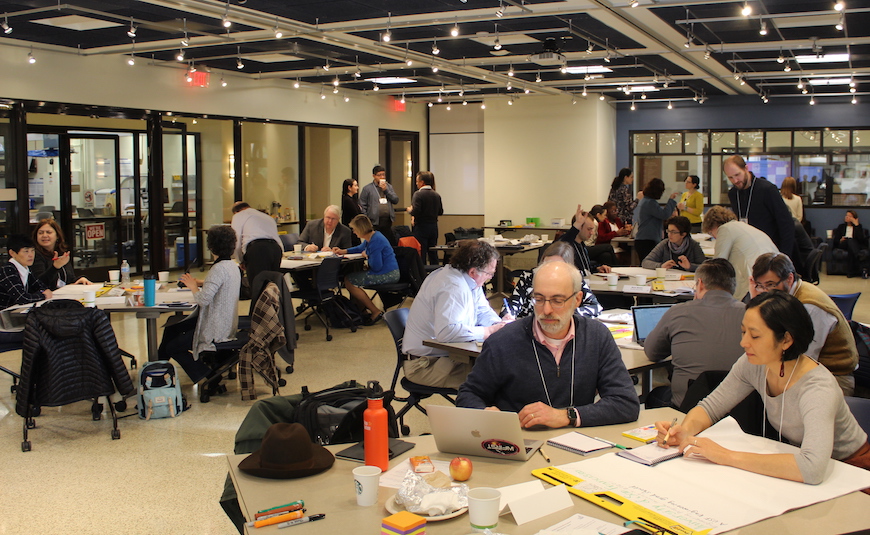 On an unusually brisk Friday morning, engineering deans and educators at Catholic universities from across the nation arrived by the dozens at the University of San Diego campus for a one and a half-day symposium on "Developing Changemaking Engineers" put on by USD's Shiley-Marcos School of Engineering.
But this was no ordinary engineering symposium — rather a unique gathering of thought leaders and leading educators who convened in the Belanich Engineering Center to further shape, what some might call, an engineering revolution.
Step back to April 2019 at St. Mary's University in San Antonio, Texas where the annual Engineering Deans of Catholic Universities (EDCU) conference was held. USD's Dean of the Shiley-Marcos School of Engineering, Chell Roberts, discussed USD'sNational Science Foundation (NSF) Revolutionizing Engineering Departments (RED) grant, that focuses on developing Changemaking Engineers by integrating social justice, peace, humanitarian practice and sustainability into the curriculum.
"I shared our school's exciting and innovative work that has resulted from our NSF RED grant, and many of the deans expressed interest in working with USD in these areas," explains Roberts. "So, I invited them to come to San Diego to see what we are doing and to collaborate."
Nearly 40 participants filled the ASML Ideation Space from January 17 -18, 2020. The informal workshop format included presentations and collaborative activities.
The symposium opened with an interactive activity exploring "What is Engineering?" facilitated by Susan Lord, PhD, professor and chair of integrated engineering and Alex Mejia, PhD, assistant professor of integrated engineering at USD. Dean Roberts then provided an overview of the USD RED grant and the symposium goals.
Juan Lucena, PhD, professor and director of humanitarian engineering at the Colorado School of Mines and Alex Mejia, PhD, presented on Engineering for Social Justice: A Multi-space and Multi-strategy Approach for Transforming Engineering Education.
"Engineering practice is socio-technical," says Lucena, whose world view of engineering has been evolving towards this holistic approach since he was a student in the 1980's.
In his talk, he presented research which "found that more experienced engineers, those who had stuck with it for a decade or more, had mostly realized that the real intellectual challenges in engineering involve people and technical issues simultaneously. Most had found working with these challenges far more satisfying than remaining entirely in the technical domain of objects." (Trevelyan 2014)
Other presentations included Engineering and Social Justice: Facilitating Learning Through Exchanges with Communities (Caroline Baillie, PhD and Odesma Dalrymple, PhD, USD), Projects, Modules and Degree Programs (Camille George, PhD, University of St. Thomas) and Changemaking Curricula: Modules in Engineering Classes (Ming Huang, PhD, Susan Lord, PhD and Rick Olson, PhD, USD).
Day one ended with a poster session where representatives from each Catholic university shared key aspects of how they are developing Changemaking Engineers on their campus, what they would like to do, and explored areas of collaboration. On day two, participants focused on these potential collaborations. Ideas included jointly developing new ideas for additional curricula and content that represents engineering at Catholic universities, seeking funding for future gatherings focused on creating Changemaking Engineers at Catholic universities and exploring mechanisms for sharing this work broadly.
"The concepts of social justice, diversity and humanitarian practices resonate a lot for our new program at the University of San Francisco and are aligned with our Jesuit values," explains Jeremy Kasdin, founding assistant dean of engineering programs at the University of San Francisco. "USF will hold their first engineering class in Fall 2020 and this workshop has got me thinking about our approach we are taking and how we can incorporate some of these practices into our curriculum."
Associate Professor of Industrial and Systems Engineering, Odesma Dalrymple, felt that this congregation of similarly-minded universities gave USD's RED leadership an opportunity to reflect on all that has been accomplished since the grant was awarded.
"The symposium was an excellent space to have an open, two-way conversation with other Catholic universities, not only to share ideas and information, but to receive constructive critiques to help improve our work and to explore ongoing challenges and opportunities to work together on future projects," says Dalrymple, who also serves as the faculty lead for USD's Engineering Exchange for Social Justice (ExSJ).
"This was an energizing symposium. It was exciting to hear about the great work happening at these Catholic universities to enhance student learning, change engineering culture and make progress towards a more just world," says Lord. "This is just the beginning. I look forward to our future collaborations and seeing how we can harness the power of this community of like-minded people to transform engineering education in powerful ways."
The deans of these Catholic universities will take the next step to further develop the proposals of collaboration at the upcoming EDCU conference, which will take place March 14 - 15, 2020 in Washington, DC at the Catholic University of America.
Kasdin reflects on the impact of the group, "This network of Catholic universities scales up what started at USD to transform [engineering education] through the RED grant."
—MIchelle Sztupkay