USD Alumni Dominick, Kim Graduate Astronaut Training Program with Eye on Travel to the Moon … and Beyond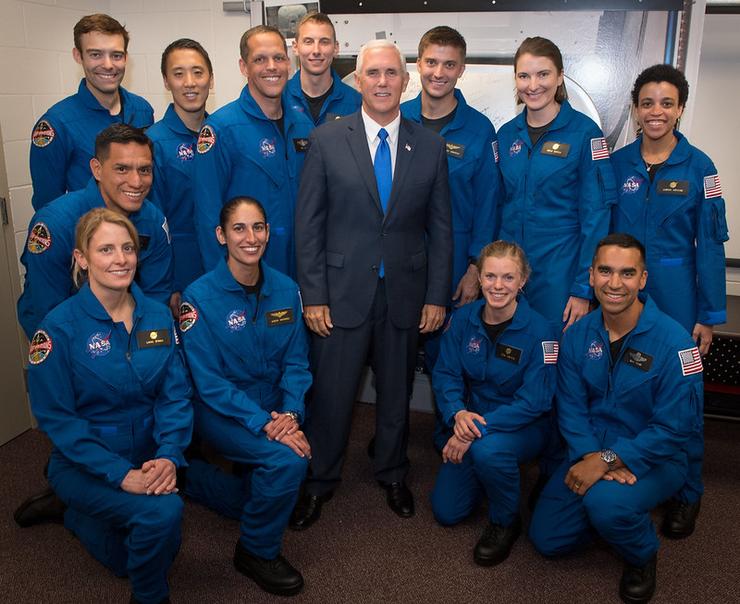 As recent graduates of NASA's Astronaut Training Program, Matthew Dominick '05 and Jonny Kim '12 are now members of a very exclusive community. And before long, they'll be charting new courses in human history; boldly going — as a famous traveler once said — where no man has gone before.
As of Jan. 10, 2020, Dominick and Kim will have completed their NASA astronaut training candidacy, and become eligible for spaceflight, including assignments to the International Space Station, Artemis missions to the moon, and ultimately, missions to Mars. The graduation comes after more than two years of basic training. Below is a photo gallery of Dominick, Kim, and their fellow astronaut candidates during training:
"I've been a president for more than 25 years, and there have been very few times that I've received news about alums that has engendered more pride throughout the university community," USD President James T. Harris said. "Literally everyone I've spoken to, whether they're a member of our university community, whether they're alumni, or even people who have no affiliation with the university, all of them are so excited about the accomplishments of Jonny and Matthew."
Dominick, a U.S. Navy lieutenant commander, was born and raised in Wheat Ridge, Colo. He earned a bachelor's degree in electrical engineering from USD, and a master's degree in systems engineering from the Naval Postgraduate School in Monterey, California. He also graduated from the U.S. Naval Test Pilot School. Dominick served on the USS Ronald Reagan as department head for Strike Fighter Squadron 115.
All astronaut candidates have completed training in spacewalking, robotics, International Space Station systems, T-38 jet proficiency, and Russian language. At the graduation, ceremony, each candidate will receive an astronaut pin, marking their graduation from basic training and their eligibility to be selected to fly in space.
As astronauts, Dominick and Kim will help develop spacecraft, support the teams currently in space and ultimately join the ranks of only about 500 people who have had the honor of going into space. NASA continues its work aboard the space station, which, in November 2020, will celebrate 20 consecutive years of human occupation. The agency also is on the verge of launching astronauts from American soil aboard American commercial spacecraft and preparing to send humans to the Moon as part of the Artemis program.
— NASA Communications and USD Digital Communications staff contributed to this story