Data in Demand: USD School of Business' New Master's in Business Analytics a Great Fit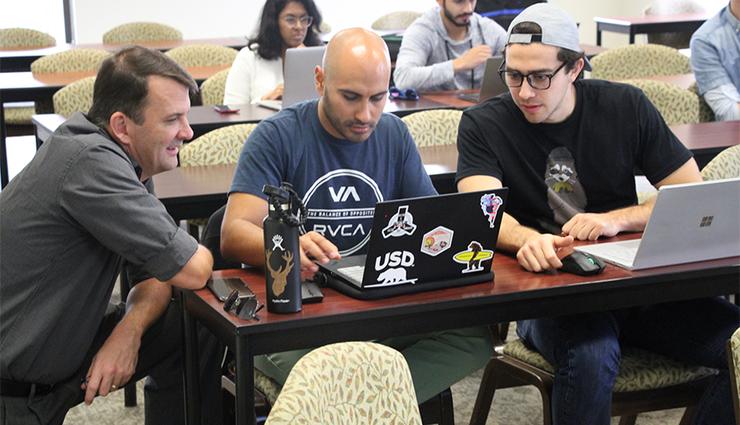 Eric Lal was pondering a career change pathway and thinking how he could accelerate his skillset when he first learned that the University of San Diego School of Business was creating a Master of Science in Business Analytics degree program.
"I had been in the animal behavior field and I was thinking about what I wanted to do, where I saw myself in five years," said Lal, who has a BA in zoology/animal biology and worked for the National Marine Mammal Foundation helping with dolphin training and other duties. "I had picked up a job in a nonprofit start-up that exposed me to the business world. I really liked the operations management side. It got me thinking about changing careers and maybe I could do a graduate program to put me ahead of other people since I didn't have the experience."
When he heard about the business analytics graduate degree it made sense. He had an undergraduate research background that gave him a foundation and knew it could help in his transition to a business-oriented degree. He met with USD School of Business staff who assured him that their program would be a good fit. His interview with USD staff went so well that he acknowledged later that the support he had from USD staff contributed to his decision to go for it.
Nearly four months into USD's 10-month program, Lal is thriving. He's enjoying the curriculum, the people he's met in the inaugural 17-person cohort, professors and resources he's had access to for shaping his new career path.
"Coming in and going through it, my goals have changed a lot. My general idea was going into the business consulting world because having this data-driven mindset would put me ahead in terms of giving business advice and analysis. But going through it now, I've really liked the data science aspect of the degree. Who knows, maybe it could be a mix of both? This program is preparing me very well. I sure know a lot more than I did four months ago."
A Diverse Degree to Benefit All
Lal's enthusiasm is music to Andrea Godfrey Flynn's ears.
"We want to look quite broadly at who this program would be a good fit for," said Flynn, PhD, an associate professor of marketing and academic director for the business analytics master's program.
The first cohort is about 50 percent students who have some type of business undergraduate degree and the other half outside business, including engineering and sciences, Flynn said.
"We wanted the program to appeal broadly, and have students with diverse backgrounds but who have had some quantitative training. It could be someone who has done a psychology or sociology degree, someone who enjoyed the research piece and gets into the statistical side of understanding the studies of human behavior. It could be someone who is studying biology who likes getting into the data and the analysis."
Bringing a degree to life isn't an easy task, but the USD School of Business saw a need for a master's in business analytics when USD undergraduates in the business school were seeking out the minor in droves to add it to their skillset. USD has a four-class business analytics concentration in its MBA offering and the job market demand is high.
The data analytics and business analytics fields are growing so rapidly that sub-specializations are already forming, Flynn said. One area still growing is the data translator role and that's where the master's program is focused.
"This is for someone who has strong technical, analytical skills to work with data scientists on what they can and can't do, but also has an appreciation of the business application and is interested in connecting with all stakeholders involved to enhance organizations' ability to make better business decisions," Flynn said.
Any new degree also enables USD to put its stamp on it, something to set it apart for any prospective students considering other schools in San Diego, in Southern California and beyond.
"We know one of our strengths at USD is being very student-centric and we believe it is a program that lends itself especially well to being taught and learned in a very hands-on way," Flynn said. "Keeping the cohort small lets faculty help students on a more individual basis, even in class to coach them through and make sure everyone is coming along. There's a lot of project-based learning, too, so a smaller cohort ensures everyone gets hands-on experience with a project and you're not just part of a team."
Flynn, who was involved in the development of the degree, said building on the strengths and identity of USD were important when considering the curriculum. One class, Data for Social Good, helps students learn how to use analytics to help solve socially relevant problems.
"The overarching purpose is to look at applications of analytics in sectors like education, not-for-profit and government where there are urgent issues to be tackled and we have access to lots of data," said Flynn, who notes that students in the first cohort are doing projects with United Way San Diego, San Diego Workforce Partnership and Democracy Counts.
Due to USD's strong international education presence, business analytics graduate students will travel to the USD Madrid Center for an intensive international consulting project with companies there during January's Intersession.
While other schools' analytics programs have a main capstone, those who go through USD's "will come out of our program with a portfolio of projects, thus giving students multiple capstone-type experiences, including one that's international," Flynn said.
Finding A Good Fit
Sonal Surendranath is a native of Bangalore, India, which she considers the information technology hub in her country. She is a solid candidate for any business analytics program based on her academic background alone. She has an engineering undergraduate degree and an MBA. She speaks five languages, but craves more.
She came to San Diego in 2019 to be near family and she did a business analytics certificate through UC San Diego Extension. In August, she started in USD's master's in business analytics and has enjoyed every minute — in and out of the classroom.
"Professors are helpful, professional and knowledgeable, but they also have a personality," she says. The work is challenging and Surendranath enjoys the curriculum — like Lal, she enjoys the Data for Social Good class — but she also likes USD's Graduate Student Life social programming to help offset what could be an otherwise stressful experience. She's taken advantage of other resources USD has, including supportive and fun interactions with other international students and regular visits to the Career Development Center.
When Surendranath was interested in her next move, she collected information on 20 schools, including some on the east coast, one in Washington and data science programs, but when she chose USD, everything fell into place.
"I met other international students and USD made me feel so welcome," she says. "Students and professors speak to you by name, they recognize you and remember previous conversations. Professors are easy to talk to and they'll encourage you to look up a club or organization so you can meet people to network. They try to make you the best you can be."
And when it's time to get to work in the classroom, Surendranath does. She compares business analytics to what she's already got going for herself five times over — "this is like learning an entire language and learning to speak proper sentences," she says — but with an environment she's fallen in love with, she's excited to put the degree she'll receive in May into a potential job in areas such as retail marketing and supply chain logistics.
"Every day is a new day for learning," she says. "I wake up each morning and I'm thinking about how to solve a problem differently."
— Ryan T. Blystone
The Master of Science in Business Analytics program is open to graduating students with no work experience necessary. Also, USD undergraduates interested in signing up will receive an application fee waiver.