Senior Banquet Celebrates 2019-20 Engineering, Computing Graduates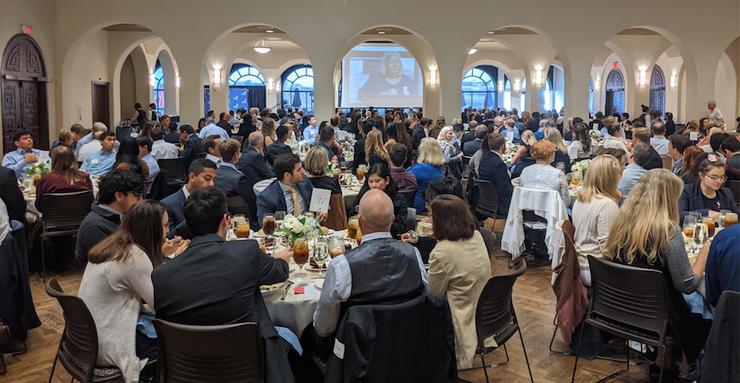 After days of rain and stormy weather blanketing San Diego, blue skies and sunshine radiated over the University of San Diego's Hahn University Center last Thursday — as if to personally welcome graduates and guests to the 2019 Engineering and Computing Senior Banquet.
On Dec. 5, the USD Shiley-Marcos School of Engineering hosted a formal banquet luncheon to celebrate and recognize the accomplishments of its graduating engineering and computer science senior class. Nearly 340 attendees filled the hall — nearly a 30 percent increase over the prior year.
"It was inspiring to see the outpouring of support from family, friends and faculty members as we honored our graduates," beamed the engineering school's founding dean, Chell Roberts, PhD.
Roberts welcomed guests with a brief overview of the school's growing programs and disciplines, attributing that growth to the innovative faculty and partners who support the school on a multitude of levels.
Roberts then introduced honorary guest, Darlene Marcos Shiley, who established the school in 2013. Marcos Shiley is a long-time supporter of the University of San Diego and serves on its Board of Trustees.
She inspired the captivated audience with tales of her late husband, Donald Shiley, and his accomplishments as a renowned biomedical engineer and inventor of the tilting disc artificial heart valve. Donald invented the heart valve in their garage, which is why the naming of Donald's Garage at the Shiley-Marcos School of Engineering has such significance for Darlene Marcos-Shiley.
Engineering Director of Development and Alumni Relations, Elisa Lurkis, then welcomed graduates to their new-found alumni status and introduced guest speaker, Maaron Tesfaye, a 2019 mechanical engineering alumna and a design engineer for SeaSpine in Carlsbad, Calif.
Tesfaye provided insights for the soon-to-be Torero alumni to ponder. She shared a few tidbits she learned while stumbling through the ever-bumpy road people call "real life."
"Each of you just spent a good majority of your lives working hard, studying and putting in the hours to get into college and now receive your degree. To top it all off, you're receiving this degree from a very well-regarded institution that provided you with incredible hands-on labs and small intimate class sizes where you weren't just a number in a crowd. So, when you're out there looking for jobs, you should brag about that! You would not believe how many people in interviews were impressed that I went to a school with a machine shop. If you capitalize on the opportunities, this place really sets you up for success."
Tesfaye summed up her speech in three "easy take-home messages." First: Be picky and a little bit selfish; Second: Always be honest; and Third: Trust your gut. Over the past six months Tesfaye has done just that and has experienced many ups and downs. But with this strategy, she landed a job that makes her feel happy and rewarded.
"By no means do these things equate a recipe for success, but I hope that maybe it could help at least one person in this room make their own path a little less bumpy," she said.
The program was turned over to Mechanical Engineering Associate Professor G. Bryan Cornwall and John Glick, chair and professor of Computer Science, to administer the time-honored Order of the Engineer history and oath and Pledge of the Computing Professional history and oath. A processional followed, led by Associate Dean Rick Olson, with senior engineering students receiving a steel ring and computer science seniors receiving a binary pin — both ceremonies serving to induct the graduating class of 2019-20 into their respective professions.
— Michelle Sztupkay